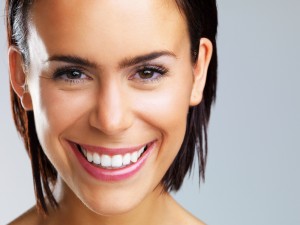 When your Astoria family dentist cares for your oral health, Dr. Leibowitz is not just concerned for your teeth; gum health is just as important as your dental health when it comes to maintaining a healthy mouth. So why should cosmetic dentistry be any different? At your Astoria dental office, we offer cosmetic dentistry services that focus on your teeth and gums to help you achieve the smile of your dreams. In this blog, your Astoria cosmetic dentist, Dr. Jeffrey Leibowitz will explain how gum contouring can transform your smile.
Gummy Smiles
As the frame for your smile, your gums can have a large impact on your image. Sometimes gums can look overgrown or uneven because of different factors that affect the gum line. This can make even the straightest teeth look crooked or too small. Often called a gummy smile, excessive gingival display can result in juvenile-looking teeth by showing too much gum tissue when you smile. Other factors can also contribute to uneven gum tissue that makes some teeth look disproportionate.
Electrosurge Gum Contouring
Your Astoria cosmetic dentist, Dr. Leibowitz offers gum contouring for patients with uneven or gummy smiles. This process shapes your gingival tissue to properly frame your smile, so that your gum line is even with your lips when you smile. Using Electrosurge, an innovative and precise tool for gum reshaping, Dr. Leibowitz offers one of the fastest healing and most comfortable gum contouring options available.
Gum Reshaping and Cosmetic Dentistry Benefits
A complement to any cosmetic dentistry procedure such as porcelain veneers or dental bonding, gum contouring makes subtle differences that create gorgeous results. You may be surprised to find that such a small change in your gum shape can have such a large impact on your smile. (more…)