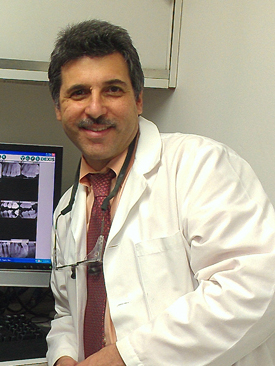 A native of the Flushing area of Queens, Dr. Jeffrey Leibowitz earned his bachelor's degree in psychology from the State University of New York at Buffalo before going on to earn his Doctor of Dental Surgery degree from the SUNY Buffalo School of Dental Medicine in 1987. After gaining several years of experience at a private Bayside dental practice, he opened his Astoria dental office in 1991 in the lower-level of a four-story residential apartment building.
Dr. Leibowitz provides a broad range of care for the patients who count on him. His practice provides the kinds of restorative, cosmetic, and prosthetic services that help people in need of care see stunning smile transformations. He takes a direct approach in advanced cases, but he also dedicates himself to being fully present for patients seen for routine needs. That commitment makes him one of the few dentists who performs dental cleanings himself, which means patients enjoy more time with him during their appointments!
Since opening his current practice, Dr. Leibowitz has established himself as a trusted member of the local community and beyond. His history in the area and his reputation for providing superior care has earned him patients from as far away as New Jersey, Long Island, and upstate New York! His compassionate and personable manner, as well as his commitment to providing comprehensive dental services, have earned him a loyal patient following, and he always welcomes the opportunity to earn the trust of new patients.
Enjoy Fantastic Care From Dr. Leibowitz At Our Astoria, NY Dental Office!
Dr. Jeffrey Leibowitz is proud to provide oral health support to the community of Astoria and surrounding regions in and around New York City. If you would like to learn more about him, and about our services, call our Astoria, NY dental practice today at 718-728-8320.