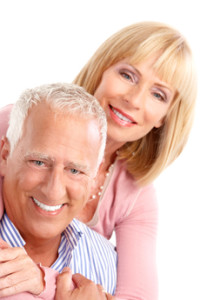 Restoring Oral Function with Prosthetic Dentistry
If you suffer from missing teeth, you know how gaps can interfere with your ability to eat and speak. Also, you most certainly know about the cosmetic embarrassment of showing gaps when you smile, not to mention the sunken appearance of your lips and cheeks. What you may not realize, however, is that missing teeth can pose more serious risks to your oral and general health. When you lose a tooth, the surrounding teeth will shift into the empty space. This movement can make your teeth crooked and interfere with a normal bite, which can lead to bruxism and TMJ disorder, as well as damage to your natural teeth and restorative dental work. A host of problems can arise from a single missing tooth, that's why Dr. Leibowitz recommends prompt replacement with prosthetic dentistry.
Natural-Looking Tooth Replacements
Which restorative options are best for you depends upon several factors. If you are missing a single tooth or a few adjacent teeth, you may be a candidate for a fixed bridge. One or more missing teeth (even if they are not adjacent) can be replaced with a partial denture. A full denture is in order if you have lost all of the teeth in a single dental arch. While bridges and dentures created by Dr. Leibowitz, and his exceptional dental lab, fit and function effectively, you may decide upon dental implants. Implants anchor your prosthetics firmly into place using titanium cylinders surgically implanted into the jawbone. To find out more about the prosthetic services that Dr. Leibowitz offers, take a look at our website.