What is the Cause of Cavities?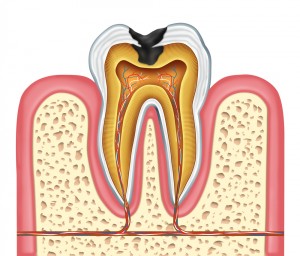 What do you think causes cavities? If you answered "sugar," don't worry; you are in the majority of those polled by the ADA. In a study by the American Dental Association, 81% of participants incorrectly guessed that sugar causes cavities. This can be a tricky question since sugar contributes to tooth decay; although, in the end, it is spiral shaped, fast-moving pathogens that cause dental caries. These harmful bacteria are called streptococcus mutans, or S. mutans. Dr. Leibowitz, your Astoria family dentist, will explain the formation of cavities, and what you can do to protect yourself from tooth decay.
How Tooth Decay Forms
These bacteria found in your mouth feed off of the sugar you consume. The S. mutans metabolize the sugar into acid. Your tooth enamel's worst enemy, acid, attacks your tooth's defenses leaving them more vulnerable to bacteria. Acid can also harm your smile when you eat foods with citric acid, such as lemons. Acid reflux and bulimia can also harm your teeth because of stomach acid introduced into your mouth. Once your enamel is weakened by acid, S.mutans can form cavities on your tooth structure. They deteriorate the tooth's enamel further into the soft layer of dentin beneath.
Professional Dental Care and Cavities
Since your teeth cannot reproduce tooth enamel, your body will not heal cavities on its own. Professional dental care is necessary to remove infection and restore your tooth. Your Astoria dentist offers minimally invasive fillings and preventive dentistry to help you fight back against dental caries. Additionally, since cavities do not often produce noticeable signs to the patient, dental checkups are important to detect tooth decay before it progresses to bigger issues. (more…)