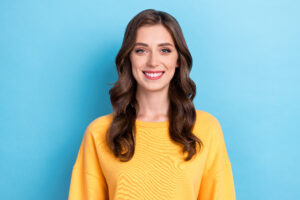 If your smile is not the lovely shade of white it once was, you can have a harder time showing it off with confidence. Gradual changes in the color of your enamel can be difficult to avoid. Simply put, there are many popular foods and drinks we consume regularly that can leave behind stains. The buildup of particles that hurt the color of your teeth can be tough to remove. Even as you fight oral bacteria and prevent cavities, they can gradually accumulate and hurt your appearance. Our Astoria, NY dental practice is prepared to help. We can recommend teeth whitening treatment to help you brighten your smile and gain back your confidence. We can also provide a review and determine if intrinsic discoloration will need to be addressed through a different procedure to give you the changes you desire.
Have You Grown Embarrassed Because Your Teeth Appear Discolored?
Many people will find themselves experiencing growing embarrassment over the way they look when they smile and speak because of dental discoloration. Teeth stains are a common issue, one that can be hard to avoid simply because so many products contain particles that cling to enamel and dull its color. Fighting the accumulation of these materials with the right oral hygiene routine can help, but you may have existing stains that have proven resistant to your own removal efforts. If so, know that a professional cosmetic procedure can produce the changes that you have hoped to show off.
Pursuing A Professional Teeth Whitening Treatment
Professional teeth whitening treatment can produce remarkable changes to your appearance. You will come in for one appointment so that we can create custom molds for your upper and lower teeth that are used for daily at-home applications of a safe but potent whitening agent. This material can exceed what store bought whiteners are capable of, and you can see results as you fight different types of teeth stains. In as little as seven to ten days of daily treatments, you can find yourself showing off a smile that has benefitted from treatment that affects your enamel as well as the underlying dentin.
What We Can Do When Patients Want Treatment For Intrinsic Discoloration
For patients who are bothered by notable internal changes to their tooth color, we can explore alternative cosmetic services. To make sure the matter is resolved to your satisfaction, we may recommend that you have veneers placed on certain teeth. These slender but remarkably strong restorations cover the front surfaces of teeth in order to cover blemishes as well as problems with teeth that are misshapen, damaged, or otherwise flawed.
Talk To Your Astoria, NY Dentist About Improving Your Discolored Smile!
If you would like to learn more about how we can help you take on dental discoloration, please call Dr. Jeffrey Leibowitz, DDS at 718-728-8320.