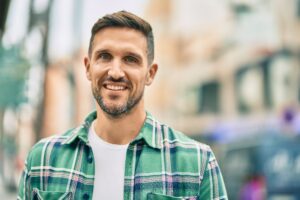 If you struggle with your alignment, you know how often it seems to impact your life. You rely upon your first impressions in both your social and professional lives, so putting your best face forward can allow you to thrive. The thought of traditional braces might seem a little too obtrusive for a working adult, however.
New technological advances in the field of dentistry are allowing for more comfortable and effective means of improvement. One of these methods is through the use of clear aligner trays to gently move your teeth; speak with Dr. Jeffrey Leibowitz, DDS about all of your options, including this form of treatment. ClearCorrect offers a novel form of orthodontics that can help you to improve the look of your smile. The improvement of your alignment can also work to give you a better ability to brush and floss!
Achieve Results With A More Discreet Approach
For some patients, the idea of traditional braces is a barrier in seeking treatment. Adults may find the idea to be too much for their work or social environments. Now, there is a helpful form of treatment that can allow you to continue your daily life without showing off your dental improvement.
Clear aligner treatment from ClearCorrect is a different approach that works throughout the day to gently shift your teeth. Even when you are sleeping, your trays will still continue to improve your appearance. You can still remove these, so that you can take care of your regular home maintenance of brushing and flossing. There are also no pesky wires to navigate with this method!
Change Your Trays As You Reach Your Goal
ClearCorrect alignment treatment is possible through the progressive nature of your trays. As your smile comes into focus, you will swap out your existing trays with new ones. Be sure to wear them for the specified time throughout the day, as waiting can prolong your treatment.
This approach gives you a measurable way to see the progression of your therapy, and you can celebrate the move to a new set of trays! As your teeth move toward their desired location, you also have the power to improve your oral health regimen. You may have had areas that were difficult to clean, so take the opportunity to strengthen your brushing and flossing.
A More Private Solution With ClearCorrect In Astoria, Queens
Do you hide your smile when you speak or laugh? Take the time to speak with a trusted provider about your dental needs. The treatment of your misalignment and malocclusion is achievable through the use of nearly invisible aligner trays from ClearCorrect.
Call Dr. Jeffrey Leibowitz, DDS at 718-728-8320. in Astoria, Queens for more information or to schedule an appointment today!