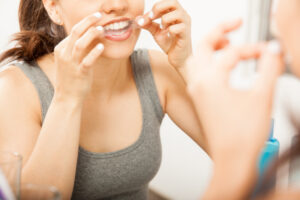 Do you have stained teeth? If so, you may feel uncomfortable with the appearance of your smile. Instead of trying to hide it from the world, why not brighten teeth with cosmetic treatments? In today's blog, your Astoria, NY, dentist talks about how we can remove discoloration, or mask it, with esthetic treatments.
The Causes of Teeth Stains
Our teeth can be stained for a number of reasons. The most common form of discoloration is extrinsic, occurring on the surfaces of our teeth. These can be caused by poor oral hygiene, which causes plaque to develop, or tobacco use. Drinking beverages with dark pigments, like coffee, red wine, tea, and soda could also be a factor. As could foods high in sugar and starch, which again promote plaque and make discoloration more visible.
There are also intrinsic stains, which form beneath the enamel. Also known as permanent teeth stains, these could be caused by injury to the teeth, fluorosis, or exposure to certain medications at a young age. As part of your treatment, we will examine your smile to identify the type of discoloration you have.
Professional Whitening Strips
For extrinsic stains, we can send you home with professional teeth whitening strips. These are placed over your teeth and worn for a set amount of time each day. They break up and remove discoloration, offering more dramatic and longer-lasting results than store bought options. They can also reduce the risk of tooth sensitivity afterward if worn properly. For some, teeth could be several shades brighter after one to two weeks of use.
Bonding and Porcelain Veneers
But what about intrinsic teeth stains? If you have permanent teeth stains, we have two different options for masking them. With dental bonding, we use the same composite resin we use in our tooth-colored fillings, shaded to blend with the rest of your smile. The placement process only takes one visit. Our team could employ porcelain veneers, thin restoration that cover the front and sides of the teeth, which can mask discoloration as well. These same treatments can also correct issues with the shape of the teeth, repair minor damage, and close gaps between them too.
To help your smile stay bright, try to drink more water, eat healthier foods, and take time to brush and floss daily. Be sure to see us for a checkup and cleaning every six months as well. If you have any questions, then contact our team today.
Ready to Give Cosmetic Treatment a Try?
Our team wants to help you enjoy a bright and beautiful smile again. To learn more about our cosmetic treatment options, then schedule a consultation by calling Jeffrey Leibowitz, DDS, in Astoria, NY, today at 718-728-8320.