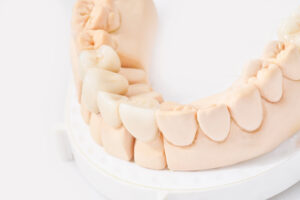 When you have a broken or fractured tooth, or one with a severe case of tooth decay or even an infection, you need a restoration. To repair teeth and offer lifelike results, we can strengthen and enhance your teeth with dental crowns. In today's blog, your Astoria, NY, dentist talks about how we offer durable and natural-looking results.
When Teeth Need Repair
A crown could be used to address cracked, chipped, or broken teeth. We can also address cases of tooth decay too severe for a filling. Placement could also complete treatment for an infected or abscessed tooth as well. We can use them to address issues with the shape of the tooth, or to improve bite balance and chewing function too. If you have a missing tooth, we could employ one or two to support a dental bridge, addressing one to three missing teeth in a row. If you're receiving a dental implant, we can use them to offer a lifelike appearance and durable chewing surface too.
Full and Partial Options
We have full and partial crowns. A full crown covers the entire visible portion of your tooth, and can be used to address a variety of serious cosmetic and restorative concerns. If you have damage or decay too severe for a filling or bonding, but that doesn't need a full crown, then our team could help with a partial. These consist of inlays and onlays, with inlays fitting in between the cusps on top of the tooth, and onlays fitting over the cusps. Each one will be custom made to ensure a comfortable fit, a balanced bite, and of course, a more natural looking appearance.
Creating Lifelike Options
To begin, we will numb the tooth receiving a restoration and remove structure from it. We then take detailed digital images, which we use in a lab setting to design and craft the crown. The restoration will be made of materials like porcelain, porcelain-fused-to-metal, or zirconia. These materials can be shaded to blend with your smile seamlessly. We typically reserve all porcelain for the front facing teeth, and use the others for the side and rear teeth, as they can better absorb more severe bite forces and pressures.
When the restoration is ready, we will attach it with a powerful bonding agent. With proper care and attention, this could provide years of quality restoration. If you have any questions about repairing teeth and improving oral health, then contact our team today.
Do You Have Questions About Repairing Your Smile?
Our team is eager to improve the health, function, and beauty of your smile! If you would like to learn more about rebuilding and restoring your teeth, then schedule a consultation by calling Jeffrey Leibowitz, DDS, in Astoria, NY, today at 718-728-8320.