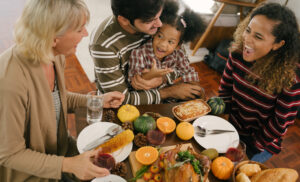 We know that many of our patients and their friends and family will be celebrating Thanksgiving in a few days with a feast. We hope everyone has a great time, but we also want them to be aware of the potential risk to their smiles! In today's blog, your Astoria, NY, dentist talks about avoiding cavities during Thanksgiving.
The Cavity Risk of Sugar and Starch
Many of our holiday favorites contain ingredients that could increase the risk of tooth decay. For example, mashed potatoes, sweet potato casserole, stuffing, biscuits, muffins, and other popular items are often high in starch. Pies, cakes, and other desserts contain a lot of sugar. These ingredients tend to stick to the teeth and without proper oral hygiene habits, could lead to cavities as bacteria break them down. You can help your smile by balancing your plate with fresh vegetables, and fresh fruit as well, as items like carrots, apples, and broccoli could help scrub away particles as you eat. A glass of water is helpful too, as this helps cleanse the smile.
Taking Steps to Keep Teeth Healthy
In addition to the steps we discussed above, you can excuse yourself after your meal to floss and remove the trapped particles right away. Be sure that during your holiday you always take time to start your day by brushing for two minutes, and end it the same way. A fluoride toothpaste is very helpful as this strengthens the outer enamel. You should also floss every evening too, as this removes what is beyond the reach of a toothbrush. These actions help control plaque buildup in between your checkup and cleaning visits, so you can enjoy better oral health.
Your Last Checkup of 2022
There is still time to schedule your last checkup and cleaning of 2022. This visit is a chance for us to see if you have issues that need treatment, such as a cavity, and to offer care before the holiday season becomes more hectic. You can also use your remaining 2022 dental benefits before they expire. In the same visit, we will also clean the teeth by removing all plaque and tartar and polishing the teeth, which helps prevent tooth decay and even issues like gingivitis and gum disease.
If you have any questions about how to properly care for your smile at home and in our office, then contact our team today to learn more.
Do You Have Questions About Safeguarding Your Smile?
Our team is ready to help improve the health and beauty of your smile! If you would like to learn more about how to protect your smile during the holidays, then schedule a consultation by calling Jeffrey Leibowitz, DDS, in Astoria, NY, today at 718-728-8320.