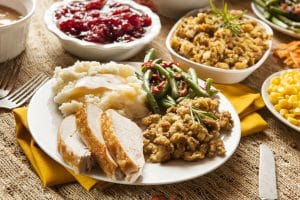 Obviously, Thanksgiving will be very different for people this year with the continuing pandemic. Despite smaller gatherings, we will likely continue to enjoy our usual holiday feast favorites. However, many of our favorite meal selections could increase the risk of cavities. In today's blog, your Astoria, NY, dentist will look at what you can do to protect your smile!
Sugar, Starch, and Dental Cavities
What makes many of these meals so dangerous? Well, sides such as cranberry sauce and desserts such as pie and cake all contain sugar, which can feed harmful oral bacteria and lead to enamel erosion, cavities, and even gingivitis. Starch is a major ingredient in mashed potatoes, sweet potatoes, yams, and other favorites. Starch also feeds bacteria, and increases the risk of issues like cavities and gum inflammation. To help protect your smile, you may need to alter your approach to chowing down.
Tips for a Healthier Thanksgiving
First, if you want to enjoy your starchy and sugary favorites, then try to limit how much you consume. Next, drink plenty of winter with your meal, as this helps cleanse your smile of trapped food particles. The next step involves adding healthier items to your plate. Did you know that fresh fruits and veggies, such as broccoli, carrots, or apples could actually scrub the teeth as you consume them, removing trapped particles and plaque? Finally, be sure to find time to floss your smile following your meals, which removes any lodged particles. Of course, continue your routine brushing and flossing habits too! Before the year ends and your dental insurance benefits expire, you could also consider scheduling a checkup and cleaning either before or after the holiday. Working together, we can start 2021 with a stronger, healthier, and brighter smile!
Other Safety Concerns
We also need to be aware of the risks posed by COVID-19, as the pandemic continues to grow in severity across the country. We suggest avoiding large family gatherings. Many people will be having small dinners with immediate family, and communicating via Skype or Zoom with other family members. You can visit older and vulnerable family members from a distance, and also be sure you wear a mask when outside. Washing your hands frequently is helpful too! With these steps, you can keep yourself and your family safe through the holiday season.
Do You Have Questions About Preventive Dentistry?
We don't want to see your smile become host to cavities and gum disease after your holiday feast. With the right steps at home, and with routine visits to our office twice a year, you can help protect your smile from a variety of complications. To learn more about addressing the causes of cavities and other concerns, then schedule a consultation by calling Jeffrey Leibowitz, DDS, in Astoria, NY, today at 718-728-8320.