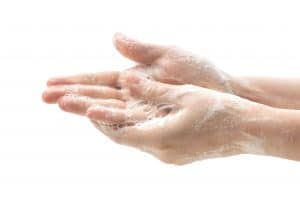 As COVID-19, also known as Coronavirus, continues to spread throughout the United States, many people are confused about what they can do to keep themselves and their families safe. One of the downsides of the internet right now is glut of misinformation. Once again, your Astoria, NY, dentist would like to talk about keeping yourself well, and the steps we take to ensure our office is clean and safe!
Infection Control at Our Office
First, we're still available to provide treatment for serious oral health issues. Right now, we're following strict safety protocols to help protect our patients and our staff. We're regularly cleaning and disinfecting surfaces in the office throughout the day, such as the waiting room area, the bathrooms, door handles, the reception desk, our tools, and more. We're washing our hands frequently, and scheduling appointments in a way to prevent the waiting room from being filled with people. We're advising patients with symptoms to stay home, and the same goes for members of our team. If you have emergency dental needs, such as a cavity, infected tooth, or other concerns, then we're still available to treat you during this time.
Washing Hands and Other Tips
Now, what can you do help protect yourself? Wash your hands! Yes, simply washing your hands with soap and water has been shown to kill the virus and help limit the spread. Each time use warm water and soap, and wash for at least 20 seconds, reaching every surface of your hands (don't forget the backs and finger tips). At home, you can also use Lysol spray and other household cleaning agents to clean door handles and other objects and surfaces frequently touched, especially if you or a member of your family begin to show symptoms.
Social Distancing
One of the best ways to help limit the spread and protect yourself from contacting COVID-19 is to practice social distancing. Simply put, if you have to go out, stay at least six feet away from people at all times. If you can stay home, do that! By being home and avoiding social interactions whenever possible, you limit the transmission of COVID-19, and help protect the members of our society more vulnerable to the disease, such as people 60 and older and those with a compromised immune system. If you have any questions about your oral health, or about our office procedures, then feel free to contact our team today.
Do You Have Questions About Dental Care?
Our team is ready to help you with your serious oral health issues and prevent major complications. To learn more about our restorative and emergency treatment options, then schedule a consultation, call Jeffrey Leibowitz, DDS, in Astoria, NY, today at 718-728-8320.