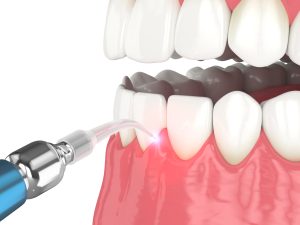 When you have a gummy smile, or problems with the symmetry of your gum line, this could lead to issues with the beauty of your smile. To correct these issues, and to do so in the only one visit, your Astoria, NY, dentist talks about our gum contouring procedure, and how we can even treat issues like periodontal disease.
The Causes of Gummy Smiles
Sometimes the issue occurs naturally due to complications with the growth and development of your smile. As a result, you show too much gingival tissue when you smile. This complication could also make your teeth appear shorter than usual, or uneven. The poor symmetry could make you feel embarrassed about your smile. Instead of trying to hide or downplay your smile, you should schedule a cosmetic consultation with our team. Using advanced digital x-rays and intraoral camera technology, we can obtain a clear and detailed picture of your oral health, assessing the cause and extent of your esthetic concerns with precision and accuracy. From there, we can choose the right treatment options to improve overall beauty, often in only one visit.
The Contouring Process
If we opt for gum contouring, then we will carefully plan the procedure and mark your gum gently. Next, we use a special radiosurgery unit to carefully and comfortably trim away excess tissues and improve overall symmetry. The procedure rarely needs anesthesia, and only takes one visit to complete. The area will heal quickly, and the unit provides greater precision than a scalpel. You won't need sutures, and can usually return to normal activities after a day of rest.
What About Tooth Contouring?
We also have a contouring procedure to address esthetic issues in the teeth, but this is a very different procedure. We don't use the radio surgery at all, instead we gently sand and buff the tooth to remove chips, reshape overly large teeth, and dull sharp portions or jagged portions. We also smooth out pits, grooves, and rough patches in the outer surfaces too.
Treating Periodontal Disease
We could also use the same radiosurgery technology to trim away diseased tissues as part of your periodontal treatments. Gum inflammation due to poor oral health or disease could impact smile beauty, and eventually have a negative impact on the stability of your smile too! Fortunately, we have options to help manage the disease and safeguard your smile. If you have any questions about how we contour and improve the beauty of your smile, then contact our team today.
Do You Have Questions About Gum Health?
We would like to help correct your smile and improve overall beauty. To learn more about our one visit cosmetic treatment options, then schedule a consultation by calling Jeffrey Leibowitz, DDS, in Astoria, NY, today at 718-728-8320.