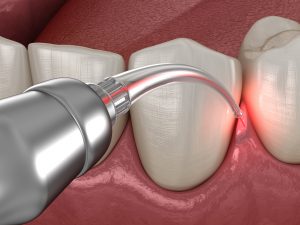 When you have issues with your teeth, you may undergo whitening, bonding, or even receive porcelain veneers. But what if the cosmetic issues are due to excessive gum tissue? Known as a gummy smile, this could alter the appearance of your smile. To correct this, you may need gum contouring from your Astoria, NY, dentist!
The Factors Behind a Gummy Smile
Why do some of us have inflamed tissues or show too much gum when we smile? For many, this is just a complication that arose as the smile grew and developed. The excess tissues make the teeth appear small or uneven, or could make a person feel self-conscious when smiling for pictures. In some cases, this is actually inflammation due to the presence of gingivitis or periodontal disease, and treatment not only improves esthetics, but helps manage the disease to prevent issues like tooth loss in later years.
Treatment with Contouring
First, we will talk to you about your smile and your oral health habits. Next, we carefully examine your smile with intraoral camera images and digital x-rays. We want to assess the factors behind your inflammation and excess tissues. From there, we will decide on the best treatment option. With gum contouring, we use a special radiosurgery unit to carefully trim away excess tissues and at the same time, contour the gum line. This improves esthetics and takes only one visit. You can usually return to normal activities after a day of rest, and the unit provides trimming and sculpting with precision and accuracy. Safeguarding surrounding healthy tissues. If you have severe cases of periodontal disease, then our team could use the system to remove diseased tissues, which helps reduce the severity of inflammation and allows us to begin managing this issue with routine cleaning every three to four months, and better at-home oral hygiene habits.
What About Tooth Contouring?
We also offer contouring for your teeth! However, this is a very different approach. We don't use the radiosurgery unit at all, instead we simply buff and sand the outer structure to remove cosmetic imperfections. For example, we could smooth out pits, grooves, or areas with rough patches. We could also dull sharp, jagged, or pointed teeth, and correct minor chips too. The procedure allows us to reshape overly large teeth and address misshapen ones too. This procedure also takes only one visit to complete! If you have any questions, give us a call today.
Do You Have Questions About Cosmetic Contouring?
Our team is ready to help you obtain a smile that you can't wait to reveal to the world. To learn more about how our team will improve the function and beauty of your smile with cosmetic dentistry, then schedule a consultation by calling Jeffrey Leibowitz, DDS, in Astoria, NY, today at 718-728-8320.