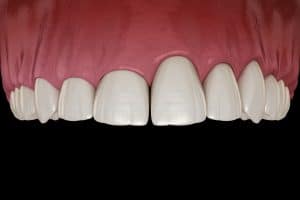 Our last few blogs have focused on how we improve the beauty of your teeth, removing stains or even reshaping them completely. However, for many the source of their esthetic concerns could actually be the gingival tissues. In today's blog, your Astoria, NY, dentist explains how we use gum contouring to help improve the beauty of the smile by correcting the appearance of the gums!
The Factors Behind Gummy Smiles
Issues with the position and eruption of the teeth, or with the gingival tissue themselves, could lead to too much tissue displayed when you smile. This excess tissue then makes teeth appear small or uneven. Other factors could include gingivitis and periodontal disease, which could lead to inflammation and swelling. No matter what treatments we provide for the teeth, they will fail to address these issues until we reshape the gum line.
Treatment with Cosmetic Contouring
For precision and accuracy, we don't use a scalpel. Instead, we will employ an advanced radiosurgery unit to target the tissues and remove them carefully, preventing damage to nearby tissues and instantly cauterizing the area. There will be no need for sutures, and there will also be little to no bleeding, swelling, or infection. We then reshape the gum line to improve smile beauty. Afterward, you will need to take the rest of the day to avoid activity and heal. Usually the next day you return to all normal activities! The healing time will be quick as well. If you have a more severe case of periodontal disease, we may use this same technology to carefully remove diseased tissues, allowing us to manage your disease without routine cleanings and other minor treatment options.
What About Tooth Contouring?
The procedure is obviously quite different from tooth contouring. With tooth contouring, we gently sand and buff the outer structures to correct chips, rough patches, and remove pits or grooves. We also dull teeth that appear pointed or sharp.
Keeping Your Gums Healthy
We briefly mentioned the topic of periodontal disease, so we want to remind everyone that routine care at home and in the office helps protect your smile from this serious concern. You should take time to brush and floss daily, and see us every six months for a cleaning. By controlling plaque and tartar buildup, we prevent inflammation that could eventually cause disease. If you have any questions about our cosmetic contouring procedures, then contact our team today.
Do You Have Questions About Our Cosmetic Dental Procedures?
Our team is ready to help you enjoy a stronger and more attractive smile with cosmetic treatment. To learn more about our approach to cosmetic dental care, then schedule a consultation by calling Jeffrey Leibowitz, DDS, in Astoria, NY, today at 718-728-8320.