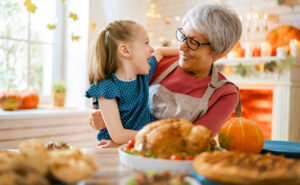 December is here, which means you're likely going to be tempted by lots of your favorite holiday treats. While enjoying a few in moderation is fine, too much could mean the onset of cavities. Which is why your Astoria, NY, dentist has a few tips for keeping teeth strong through the holiday season!
Sugar and Starch Could Lead to Cavities
When we consume too many foods and drinks with a high sugar content, or consume foods and snacks with lots of starch, this leaves behind particles that cling to the teeth or become stuck between them. Harmful oral bacteria will then break down the particles, a process that elevates oral acidity levels and coats the teeth in plaque. The buildup cannot be removed with brushing and flossing alone, and could increase the risk of bad breath, stained teeth, tooth decay, and gum disease. Which is why you should take steps to protect your smile during the holidays!
Improving Your Oral Hygiene
First, enjoy your sugary and starchy favorites in moderation, and try to wash them down with a glass of water to help cleanse your mouth. When you make your plate, balance it with fresh fruits and veggies. Not only are these delicious, but they contain essential vitamins and nutrients. The rougher ones, like broccoli, carrots, and apples, also help scrub away plaque as you consume them. You should also make sure you brush and floss daily, which limits how much plaque can form. You should brush for two minutes in the morning and at night, each time using a fluoride toothpaste. You also benefit from flossing every evening as well!
Using Your Benefits
Before the year comes to a close and your 2021 dental benefits expire, schedule your last checkup and cleaning of the year. We can examine your smile for signs of trouble, and create a treatment plan that fits your budget and schedule. You then start 2022 with a healthier smile! In addition, we will also clean the teeth thoroughly, which allows us to remove all plaque and tartar thoroughly. Before the holidays make your schedule too busy, and before you lose the benefits you paid for, why not talk to our team? If you have any questions about how to improve your overall oral hygiene, or about our treatment options or your coverage, then contact our team today to learn more.
Do You Have Questions About Safeguarding Your Smile?
A few simple steps this holiday season could keep your teeth cavity-free. To learn more about the process of safeguarding your oral health, then schedule a consultation by calling Jeffrey Leibowitz, DDS, in Astoria, NY, today at 718-728-8320. We want to help you maintain a strong and beautiful smile!