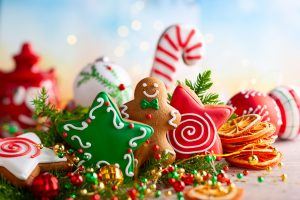 December is a month of holidays, with Hanukkah happening now and Christmas a few days away. However, during these holidays, we also tend to indulge in our favorite treats, many of which contain high amounts of sugar and starch. Rather then leave your smile at the mercy of harmful bacteria and cavities, your Astoria, NY, dentist has a few oral hygiene tips.
What Causes Poor Oral Health?
Often, the combination of a diet high in sugar and starchy items, combined with poor oral hygiene habits, could leave particles of food trapped between the teeth. Bacteria will then break down these particles, a process that elevates oral acidity and coats the teeth in plaque and tartar. The buildup then wears away outer enamel, eroding it and causing the onset of cavities and infection. The same buildup also irritates and inflames the gums, which makes gingivitis and gum disease more likely as well, not to mention bad breath and teeth stains! Now that you know, what can you do to protect your smile?
Care at Home
You should make sure you and every member of your family starts the day by brushing their teeth for two minutes. Be sure your toothpaste contains fluoride, look for the American Dental Association's Seal of Acceptance on the packaging to be sure. Everyone should do the same before bed as well. Flossing removes what is beyond the reach of your toothbrush, so everyone should floss thoroughly before bed as well. These actions remove trapped food particles and help improve the health of your smile in between checkup and cleaning visits. You also benefit from a diet with fewer sugary and starchy items too!
Your Last Checkup and Cleaning
We urge people to see us every six months for a checkup and cleaning. A checkup means a chance to examine the smile and keep a close eye on it, watching for signs of trouble and offering care to prevent major oral health complications. A cleaning completely removes any and all plaque and tartar (hardened plaque) from the surfaces of the teeth.
Using Your Benefits
There is still time to see us before the year ends. When you do, you have a chance to start 2021 with a healthier smile, and also use any remaining 2020 dental insurance benefits before they expire. If you would like to schedule your next checkup and cleaning, please give us a call soon!
Do You Have Questions About Our Preventive Care?
We would like to help you maintain a strong, healthy smile with better oral hygiene habits. To learn more about our approach to caring for smiles in our community, then schedule a consultation by calling Jeffrey Leibowitz, DDS, in Astoria, NY, today at 718-728-8320.