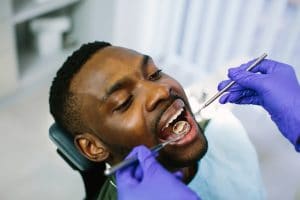 You're probably busy planning what your holiday season is going to look like, but amidst the hustle and bustle of the season, we want to remind you to give us a visit. In today's blog, your Astoria, NY, dentist is highlighting the value of a routine exam, and why scheduling one now is a great idea!
Let's Take a Look at Your Smile
A checkup is a great chance for us to sit down and take a close look at your smile. With advanced digital x-rays and intraoral cameras, we can gain a detailed picture of your teeth, gums, roots, and oral structures. We then use this information to make a diagnosis with accuracy and precision, identifying common oral health concerns in the earliest stages, and then creating a personalized treatment plan to correct these issues before they cause oral health complications. We look for cavities, infection, gingivitis, gum disease, TMJ disorder, bruxism, and even screen for oral cancer annually.
Using Your Benefits
If you have any remaining 2020 dental insurance benefits, then we can use them for your exam and possibly to help cover the costs of any necessary procedures, enabling you to start 2021 with a healthier smile. Remember, these benefits simply expired otherwise, so why let that happen when you can close out 2020 with a brighter, stronger smile. The same goes for people with health savings accounts, which have funds that expire unless used as well.
Cleaning Your Smile
Don't forget, as part of this exam visit we also clean your teeth, removing all plaque and tartar with an ultrasonic scaling device. The cleaning helps limit the risks of everything from bad breath and teeth stains to cavities and gum disease. Brushing and flossing alone cannot remove plaque, so this procedure is essential for the health and beauty of your smile.
Holiday Care at Home
We also want to remind you to care for your smile throughout the holidays. Drink plenty of water, brush and floss daily, and also try to eat sugary holiday favorites in moderation. Homecare in between your office visits is also essential for the continued health and function of your smile. If you have any questions about our treatment options, or if you would like to schedule a visit soon, then contact our team today. Remember to let us know if you experience any toothaches or bleeding gums, as these could be signs of serious oral health issues that require immediate attention.
Do You Have Questions About Our Preventive Treatments?
We want to help you maintain optimal oral health throughout this year and into the next. To learn more about our approach to preventive and restorative treatment options, then schedule a consultation by calling Jeffrey Leibowitz, DDS, in Astoria, NY, today at 718-728-8320.