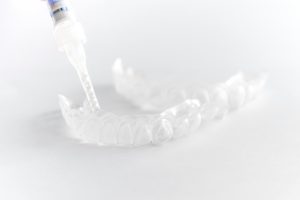 People often want to make big changes to their smile for summer, and that is especially true since many of us were forced to stay onside last summer! If you would like to hang out with friends or travel with a brighter smile, then contact your Astoria, NY, dentist. In today's blog, we're going to talk about our professional teeth whitening treatment.
Our Teeth Whitening Treatment
How does professional teeth whitening work? Well, the process starts with an initial office visit. Our team will take a close look at the smile to identify the factors behind the discoloration. If our trays and gel are the right choice for you, then we will take detailed impressions and images with digital technology. We then custom-fit a set of plastic trays for your smile, and then send them home with you, along with a powerful bleaching gel. At home, you will fill each tray with gel and wear them for about 30 to 45 minutes. The trays ensure even results, and prevent the gel from becoming diluted by saliva. After a week to ten days, your smile could be brightened by up to eight shades!
Keeping Smiles Bright
Once you obtain a stunning new smile, how do you keep your smile bright? Well, you can use the trays and any remaining gel for touch-ups here and there as the need arises. However, good oral hygiene is the most effective way to keep teeth bright, and protect oral health too! You should brush your teeth twice a day with a fluoride toothpaste, once in the morning and again at night for two minutes. You also need to floss every evening. Try to avoid foods and drinks high in sugar, as this promotes plaque and makes stains more visible. Cutting back on drinks with dark pigments, such as tea, coffee, red wine, and soda is helpful too. Finally, see us every six months for a cleaning, so we can remove teeth stains!
Masking Permanent Stains
Most teeth stains form on the surfaces of the teeth, known as extrinsic, and are easily removed with teeth whitening. However, some form beneath the enamel, referred to as intrinsic discoloration. These could be difficult to remove with whitening. Fortunately, we can still brighten your smile! We simply mask these stains with dental bonding, porcelain veneers, or a combination of the two. If you have any questions about how we remove teeth stains and keep smiles bright and healthy, then contact our team today to learn more.
Do You Have Questions About Cosmetic Dentistry?
If you want to improve the beauty of your smile and remove unsightly discoloration. To learn more about how our team will combat discoloration, then schedule a consultation by calling Jeffrey Leibowitz, DDS, in Astoria, NY, today at 718-728-8320.