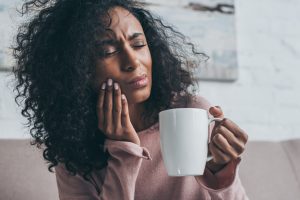 When you have pain in your tooth, we suggest letting us know right away. The sooner you see your Astoria, NY, dentist, the sooner we can identify the causes of your pain, and recommend a solution to prevent major complications. In today's blog, we're going to talk about the causes of toothaches, and how we offer relief with fillings and crowns.
The Causes of a Toothache
Pain is always a sign of trouble. While sensitivity and aches could be short-lived and caused by issues such as elevation changes, sinus infections, or allergy issues, a prolonged discomfort could mean cavities or infection. For example, if you have a cavity in the early stages, you could experience sensitivity to hot or cold foods and drinks. Once a toothache forms, you have a more advanced stage, one that threatens to become an infection. Your decay and discomfort could also be caused by injury to a tooth, or due to bruxism, a disorder that causes us to grind and clench our teeth at night.
A Diagnosis
How do you know what is causing your pain, and how do you obtain relief? Everything starts with a visit to our office. Using advanced technology and years of experience, we will carefully examine your smile to identify the factors behind your discomfort. From here, we will create a treatment plan to address it and bring relief. Often, our solutions can be completed in only one visit, so you leave with a healthier smile. We also take esthetics into account, and strive to offer solutions that look natural and blend with your smile!
Possible Solutions
If you have a cavity, we use a metal-free composite resin to place a filling that looks natural and lasts for years to come. For damaged teeth, we could provide single-visit repair with the same material as part of a dental bonding procedure. In one to two visits, we could repair major damage or advanced decay or infection with a root canal procedure or crown. Whatever the cause of your toothache, we have a lifelike solution to restore comfort and function to your smile once again.
Preventive Actions
What can be done to avoid issues like tooth decay? To protect your teeth from aches, be sure you brush and floss family, and also make time to see us twice a year for a checkup and cleaning. You also benefit from a healthier diet too. If you have any questions, please give us a call!
Ready to Treat Your Dental Pain?
We're ready to help restore the health, beauty, and function of your smile with cosmetic and restorative treatment. To learn more about providing relief for aching and sensitive teeth, then schedule a consultation by calling Jeffrey Leibowitz, DDS, in Astoria, NY, today at 718-728-8320.