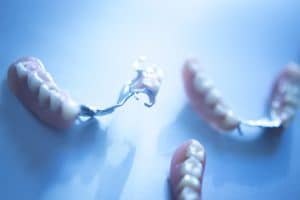 Our last blog discussed a solution to minor tooth loss with a bridge. But what if you lose several teeth, possibly even a majority of them? In these situations, you may benefit from addressing tooth loss with a full or partial denture. In today's blog, your Astoria, NY, dentist explains how we design and craft a custom fitted set of replacement teeth.
The Impact of Losing a Majority of Your Smile
Losing several teeth could limit the kinds of food you can consume. Being forced to rely mainly on soft items could deprive you of not only your favorite meals, but many essential vitamins and nutrients too. For others, multiple missing teeth could alter how clearly you speak, and impact social interactions in a negative fashion. You could also feel embarrassed too, and the remaining teeth could drift from position to cause further negative changes to your smile's balance and appearance. By addressing these gaps, we can restore function and beauty to your smile once again.
Partial Dentures
Each prosthetic we prescribe will be custom-made for your smile based on detailed digital images and impressions, ensuring a comfortable fit, a balanced bite, and of course, a lifelike appearance. For people with gaps spread out across the smile, but still enough natural teeth that a full isn't necessary, we could recommend a partial. The prosthetic will contain an acrylic base that mimics the appearance of gum tissues, and several lifelike teeth crafted from durable materials. There will be metal clasps that attach to natural teeth and anchor your prosthetic, but won't be visible when in place. The partial will last between 5 to 10 years on average.
Full Dentures
A full addresses every tooth on one or both arches. The prosthetic again has an acrylic base, but this time a full set of teeth. Suction will anchor the upper jaw prosthetic in place, and a special adhesive may be needed for the lower jaw portion. If you have a very small number of teeth left, we may extract to make room for your new set of teeth. Remember, losing your smile could lead to poor oral health and impact your quality of life. If you have lost one or more of your teeth, don't live with an incomplete smile. Instead, talk to our team about possible replacement options so you can once again smile with confidence. We would love to help you make big changes for your smile in 2021.
Ready to Transform Your Smile with a Prosthetic?
Our team is ready to help you enjoy a full smile you can't wait to show the world. To learn more about addressing advanced tooth loss, then schedule a consultation by calling Jeffrey Leibowitz, DDS, in Astoria, NY, today at 718-728-8320.