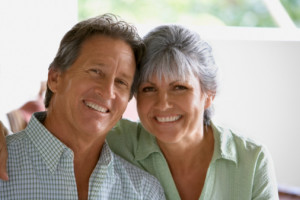 Restoring Oral Function and Appearance with Dentures
If you are missing teeth, Dr. Leibowitz can help you regain your ability to smile, chew, and speak with confidence with full or partial denture treatment. These prosthetics are removable and consist of natural-looking false teeth attached to a gum-colored plastic base. Your Astoria dentist is experienced fitting patients with dentures that stay firmly in place, so you need not worry about embarrassing slippage.
Partial Dentures
Partial dentures are recommended when you still have some of your natural teeth. Partials can replace a single missing tooth or several teeth, even if they are not all adjacent. Partials dentures fill the gaps between healthy teeth, are attached to remaining natural teeth via metal clasps, and restore full oral function. These prosthetics will also keep your remaining teeth in their proper positions, which can help you avoid developing bruxism or TMJ disorder.
Complete Dentures
If you have lost all of your upper or lower teeth, Dr. Leibowitz will create a prosthetic called a complete, or full, denture. A full denture replaces all of the teeth in a dental arch and consists of a pink plastic base that completely covers the gum tissue. It is held in place with suction using the patient's own saliva. Some upper dentures completely cover the roof of the mouth, while lower dentures are U-shaped to allow an opening for the floor of the mouth and the tongue.
Care of Your Dentures
Dr. Leibowitz will provide you with detailed instructions to care for your new prosthetics. He may advise you to wear your dentures 24-hours a day at first to get used to them, and determine if there are any areas that need adjustment. If he feels they are a good fit, you may begin taking them out while you sleep to give your gums a break and prevent irritation. To help retain the shape and fit of your dentures, always keep them moist when they are not in your mouth by soaking them in water or denture solution.