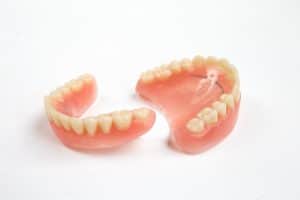 While a bridge is a great way to address minor tooth loss, what if you lose all of your teeth, or at least the majority of them? To prevent issues with everything from eating and speaking to your facial structure, we may suggest a full set of dentures. In today's blog, your Astoria, NY, dentist will explain how we design and craft a set of complete prosthetics.
What Happens Once We Lose Teeth?
Losing several of our teeth means serious problems for our oral health. First, the body will take note of the lack of roots and begin suspending doses of calcium and phosphorus to those portions of the jawbone. Without these nutrients, the bone tissue breaks down and causes further tooth loss and an older appearance. There could be trouble eating, which means relying on soft foods and denying yourself access to key vitamins and nutrients. Trouble speaking could also develop, which negatively impacts your ability to communicate and your social interactions. To avoid these complications, we need to address our missing teeth!
Designing a Custom Prosthetic
For people missing most or all of their teeth, we will take a detailed impression of the smile, as well as images and measurements. With this information, we will design and fabricate the prosthetic in a dental lab setting. The prosthetic will have a full row of lifelike teeth crafted from durable materials like ceramic, which we can tint to look natural. The teeth will be set into a base made from acrylic, which is crafted to mimic the appearance of gum tissues.
Removable and Implant-Secured Options
The most common option is removable, meaning they are held in place with suction or a special adhesive. These will need to be replaced every 5 to 10 years as the jaw ridge changes shape due to loss of mass and density in the jawbone. However, we also have dental implants. By attaching the prosthetic to multiple dental implants, we have an option that never slips. The implants act as new tooth roots, stimulating the growth of bone structure and enabling the denture to last for decades to come, possibly even a lifetime. We will take a look at your current oral health and assess any underlying health issues before we recommend an option to you. If you have any questions about tooth loss, or about supporting your teeth with lifelike and durable dental implants, then contact our team display to learn more.
Do You Have Questions About Custom Prosthetics?
Our team knows that tooth loss means trouble for your oral health, so we're ready to help with a complete set of dentures. To learn more about our lifelike and long-lasting dentures, then schedule a consultation by calling Jeffrey Leibowitz, DDS, in Astoria, NY, today at 718-728-8320.