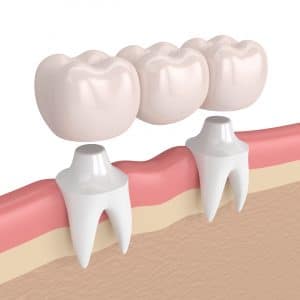 When we lose even one tooth, there could be a host of complications that arise in the coming months and years. However, to avoid these and enjoy a full smile, you simply need to talk to your Astoria, NY, dentist about prosthetic dentistry. In today's blog, we're going to look at how a bridge improves your smile's beauty and function.
The Complications of Missing Teeth
Losing a tooth means an exposed gap in your smile. The surrounding teeth could drift due to this open space, a complication that leads to misalignment and with it, an increased risk of tooth decay and gum disease. For others, the lost teeth will impact the balance of your bite, leading a greater risk of TMJ disorder and bruxism (chronic teeth grinding). For people with multiple missing teeth, this could impact how you eat, and even your ability to speak clearly. By replacing your lost teeth in a timely manner, you help prevent these issues.
The Benefits of a Bridge
A dental bridge is a sturdy and lifelike prosthetic that replaces between one and three missing teeth in a row. By filling this gap in your smile, you prevent misalignment and help restore balance to your bite. You eat your favorite foods once more, and enjoy the ability to speak without difficulty and smile with confidence! The prosthetic will be able to last 10 to 15 years, and never needs to be removed for cleaning or speaking.
Creating a Custom Prosthetic
To create one, we start by removing structure from the abutment teeth, the natural ones sitting on either side of the gap in your smile. We then take detailed impressions, images, and measurements, which enable us to design and craft the bridge in a dental lab. The finished product will consist of the pontics, or new teeth, with crowns attached to either end. We create them from ceramic, which can be tinted to blend with your smile, and also has the ability to absorb daily bite forces.
When complete, you return to the office so we can place the crowns on your abutment teeth and secure your pontics in place. To keep them strong, continue to brush and floss daily (including the space between the top of the gums and the bottom of the bridge), and see us for checkups and cleanings every six months. If you have any questions, then contact our team today.
Do You Have Questions About Prosthetic Dentistry?
We're here to help you enjoy a full smile and avoid problems related to one or more missing teeth. To learn more about replacing one or more of your missing teeth, then schedule a consultation by calling Jeffrey Leibowitz, DDS, in Astoria, NY, today at 718-728-8320.