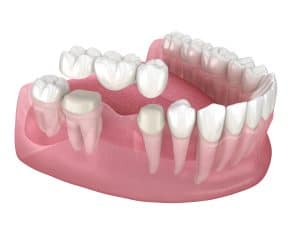 A dental bridge is often prescribed to address minor cases of tooth loss, in which a patient may lose one to three teeth in a row. Your Astoria, NY, dentist always takes steps to ensure they not only fit comfortably, but that they also look great and blend with your smile. In today's blog, find out how we make sure your new teeth look natural.
Don't Let Your Smile Suffer
When you lose natural teeth, this leaves behind gaps in your smile. Surrounding teeth could then begin to move from position as a result of these gaps, causing misalignment. Poor alignment then increases the risk of cavities and gum disease, as proper brushing and flossing becomes more difficult. The pressure on your jaw joints due to tooth loss could mean an increased risk of TMJ disorder and bruxism (teeth grinding). If you lose a tooth, even a single one, let us know right away!
Creating the Prosthetic
We will start by removing a small amount of structure from the teeth on either side of the gap. Next, we take detailed impressions and measurements of the smile and prepared teeth. We use them to design and fabricate a bridge, which consists of new teeth, known as pontics, with crowns attached to each end. We use materials like ceramic, as we can tint it to blend with the smile, and which can absorb serious bite forces and pressure. We address up to three missing teeth in a row!
Placing and Maintaining Your Dental Bridge
When the dental bridge is ready, our team will place the crown portions onto the prepared teeth, which we refer to as abutment teeth. This holds the pontics firmly in place. The bridge will last between 10 and 15 years with proper care and attention. You will need to brush and floss them as you do your natural teeth, removing trapped food particles to reduce the risk of plaque buildup and in turn, tooth decay and gum disease. You also need to clean the spaces between the top of your gums and the bottom of your prosthetic. We want to help you enjoy a full and functional smile, one that looks great too. If you have any questions about avoiding tooth loss, or about replacing missing teeth with a custom prosthetic, then contact our team today.
Have You Lost a Tooth?
We want to help you maintain a whole and functional smile, one that you'll feel eager to show off. Addressing tooth loss also helps improve the overall health of your smile too, keeping it full and healthy. To learn more about our custom prosthetics, then schedule a consultation by calling Jeffrey Leibowitz, DDS, in Astoria, NY, today at 718-728-8320.