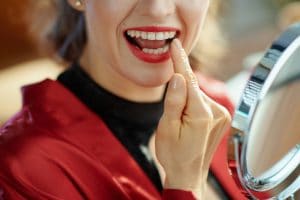 With cosmetic dentistry, your Astoria, NY, dentist does far more than just erase teeth stains. In fact, with dental bonding and contouring, we can address multiple esthetic issues, and even reshape your tooth, in just one visit. In today's blog, we're going to look at how we help transform smiles in one sitting with these cosmetic treatments.
When Does a Tooth Need Repair?
We suggest any chips, cracks, or worn-down portions of tooth structure undergo repair. After all, even a minor chip could potentially expose the sensitive inner layers of dentin to bacteria, which enables a cavity or infection to develop. To avoid painful aches and sensitivity, and prevent cavities and infection, you should contact our team to talk about cosmetic repair. If an injury happens, give us a call, even on the weekends, as we offer emergency dental care to restore your smile to optimal health, function, and beauty.
Cosmetic Dental Bonding
We often repair teeth in one visit with dental bonding, which employs the same metal-free composite resin we use in our tooth-colored dental fillings. We start by removing any decay and then thoroughly cleaning the tooth. Next, we prepare and apply the composite resin, which is tinted to blend with the rest of the tooth. We then cure the composite resin under a special light and mold the tooth in the process. Finally, we polish the tooth. The process can repair malformed or damaged teeth, fill gaps between teeth, and even lengthen teeth worn down as a result of teeth grinding. If you have permanent teeth stains, which form beneath the enamel and may not respond to teeth whitening, we can mask the discoloration instantly.
Contouring a Tooth
We also address minor esthetic concerns by contouring the tooth, a process that involves sanding and buffing away portions of the outer structure to reshape it and address a variety of esthetic issues. For example, our team can repair minor chips, remove pits, grooves, and rough patches in the surfaces of the tooth, and reshape overall large teeth. We also dull overly pointed or chipped portions. We may combine these options with teeth whitening to help transform the overall beauty of the smile. If you have any questions about our cosmetic treatment options, or if you would like to schedule a consultation to see which options are best for your smile, then contact our team today.
Do You Have Questions About Cosmetic Dentistry?
Cosmetic dentistry often allows our team to restore smiles in one sitting. We also have other options, such as clear braces, teeth whitening, and porcelain veneers to improve smile beauty. To learn more about fixing your smile, then schedule a consultation by calling Jeffrey Leibowitz, DDS, in Astoria, NY, today at 718-728-8320.