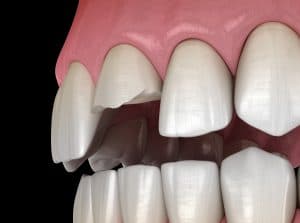 We know how valuable a beautiful smile is for our Astoria, NY, patients. With cosmetic dentistry, we take an artistic approach to repairing damage and restoring the health and beauty of the teeth. In today's blog, we're going to look at bonding and contouring, which can offer an artistic solution to esthetic concerns in just one visit.
The Bonding Process
Tooth bonding enables us to address a variety of problems in a single visit. The procedure involves placing several layers of composite resin on the teeth, which we also use for our tooth-colored dental fillings. When we prepare this unique blend of metal-free plastic and glass compounds, we shade it to blend with the color of your tooth. We apply the material and as we cure the composite resin under a light, we shape and mold the tooth. We complete the procedure by polishing the teeth, which helps ensure a more lifelike appearance. We also use this option to repair minor chips and cracks, lengthen worn down teeth, mask permanent teeth stains, and even close embarrassing gaps between the teeth.
Contouring Your Tooth
Contouring is another artistic cosmetic procedure that takes a single visit to complete. In fact, we often perform both bonding and contouring in one sitting. With this procedure, we actually buff away small sections of outer structure to reshape the tooth. We correct misshapen teeth, address minor damage, and even remove pits or grooves in the tooth's surface. If you have overly pointed teeth, we can dull them in one visit.
When to See Us
If you have cosmetic concerns with malformed and misshapen teeth, or if you have teeth stains that don't respond to teeth whitening, the let us now. We want you to feel proud of your smile's appearance and eager to show off your teeth when you smile for pictures with friends and family. Also, if you damage a tooth, which could include a chip or crack, please let us know. Remember, even what appears to be minor damage could expose the inner tooth structure to harmful bacteria, leading to a greater risk of tooth decay and dental infection, as well as toothaches. If you have a damaged tooth, or stains and issues with your tooth's shape, then contact our team today. We're ready to employ cosmetic dentistry and an artistic touch to improve the beauty of your smile!
Do You Have Questions About Artistic Repair?
If you damage a tooth or develop problems with the shade and shape of them, then talk to our team about cosmetic dentistry. For more information on bonding and contouring, or any of our other unique cosmetic treatment options, then schedule a consultation with us by calling Jeffrey Leibowitz, DDS, in Astoria, NY, today at 718-728-8320.