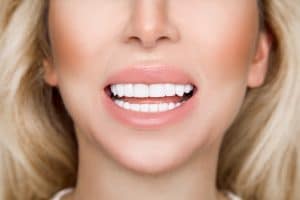 When you have excessive gum tissue on display, this could impact the beauty of your smile, and even the appearance of your teeth. To address these concerns, we offer a unique cosmetic treatment known as gum contouring. In today's blog, your Astoria, NY, dentist explains how we use gum contouring to bring symmetry and beauty to your smile in one visit.
Gummy Smiles
The presence of excessive amounts of periodontal tissues may mean you show off too much gum when you smile, also known as a gummy smile. The excess tissues could also make the teeth appear small or uneven due to poor symmetry in the gumline. No amount of teeth whitening or bonding can correct this concern, you need treatment to address the gingival tissues directly, and we provide that with our contouring procedure.
Gum Contouring
The procedure we recommend doesn't involve the dentist employing scalpels or sutures at all, instead we use an advanced radiosurgery unit. The technology enables our team to carefully trim away excess tissues and reshape the gum line with accuracy and precision. We restore symmetry and ensure an attractive and even gumline. The treatment prevents bleeding afterward, and lowers the risk of infections, swelling, or other complications during the healing process. Recovery and healing time is minimal, we usually suggest taking the day of the surgery off, and waiting until the next day to resume normal activities. In one visit, we can tackle common issues that impact how you feel about your smile!
Improving Periodontal Health
While we may employ scaling and root planings to address and manage minor gum disease, we may use contouring to remove diseased tissues in the advanced stages, helping us better manage the issue and preventing the risk of adult tooth loss due to untreated periodontal issues. If you have any questions about how we use contouring to improve the esthetics and beauty of your smile, or about potential uses to address poor periodontal health, then contact our team today. With cosmetic dentistry, we want to help you obtain a smile that makes you feel proud, and we also want you to gain a better understanding of your own oral health, and the steps needed to keep your smile strong and healthy.
Do You Have Questions About Preventive and Cosmetic Treatment?
Our team is ready to help you enjoy better oral health, and a more attractive smile, with our cosmetic treatment options. Along with contouring the gum line, we also have treatments to help improve the positions of the teeth and to also address issues with shape and alignment. To learn more about our approach to cosmetic treatment, then schedule a consultation by calling Jeffrey Leibowitz, DDS, in Astoria, NY, today at 718-728-8320.