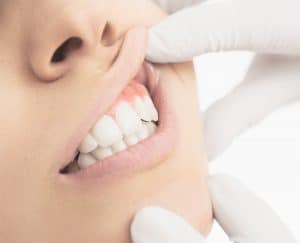 When discussing cosmetic dentistry, we often focus on the teeth. After all, veneers, dental bonding, and teeth whitening all improve the color and shape of the teeth. Even our ClearCorrect™ aligners reposition the teeth. But what about the gum tissue? For those with excessive gum tissue, we may recommend a safe and comfortable contouring procedure.
The Cosmetic Benefits
A "gummy smile" means you show a little too much gum when you smile. An excess of gingival tissue could also lead to teeth looking small or uneven, causing esthetic issues that cannot be addressed with teeth whitening or dental bonding. However, using a special radiosurgery unit, we can gently and comfortably remove the excess tissue, trimming them and reshaping the gum line in the process. This lengthens the appearance of the teeth and helps correct your smile's beauty. The process can be done quickly, and using the radiosurgery unit in lieu of scalpels or sutures means greater precision and accuracy, limiting any damage to remaining healthy tissue.
Addressing Periodontal Disease
We can also use gum contouring for other periodontal concerns. For example, if you develop periodontal disease, this could mean the risk of periodontitis and tooth loss. You may experience pain, swelling, recession, redness, and bleeding. By contouring your smile, we can remove the infected tissue and enable healthy tissue to re-adhere to the teeth, closing periodontal pockets and controlling the disease. With routine cleanings every three to four months, we can better manage the disease and prevent the advanced stages, safeguarding your smile's health and stability. If you do notice changes to the color of your gums, or if they begin to bleed when you brush and floss, please let us know right away.
Benefits of Treatment
Lack of scalpels and sutures means a much faster healing period, with a reduced risk of bleeding and infection. Potential damage to surrounding tissues is limited as well. You will need to take things slow the first day, but afterward you should be able to return to most of your normal activities. If you have any questions about the contouring process, or if you think you may have issues with the health of your gum tissue, then contact our team today. We would love to help you obtain a healthier and more beautiful smile with our approach to preventive and cosmetic dentistry.
Do You Have Questions About Gum Health?
We can help address a number of different cosmetic issues, from gummy smiles to stained teeth. With a cosmetic consultation, we can examine your smile and create a personalized treatment plan to address your concerns and help you enjoy a more attractive smile. For more information on cosmetic dental care, then schedule a consultation, call Jeffrey Leibowitz, DDS, in Astoria, NY, today at 718-728-8320.