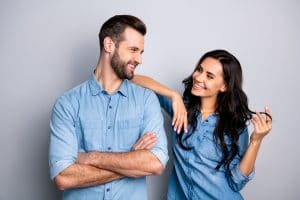 For some, gums can appear swollen and impact the appearance of the smile. Along with treatments to brighten or reshape the teeth, we have solutions for cosmetic gum issues as well. In today's blog we're going to talk about how we improve smile health and beauty with gum contouring. When should you see your Astoria, NY, dentist for treatment? What should you expect from this cosmetic procedure?
The Causes of a Gummy Smile
A gummy smile, which means your smile has an excessive amount of gingival tissue, could occur naturally. In addition, the issue could develop as a result of swelling due to inflammation or periodontal disease. For some, the issue causes the teeth to appear small or uneven. You may also show too much gum tissue when you smile. Instead of feeling embarrassed about the appearance of your smile, why not talk to our team about cosmetic treatment?
The Contouring Procedure
The procedure involves reshaping and changing the gum line. Instead of using sutures and scalpels, our team will employ an advanced radiosurgery unit. First, we will mark the areas that need to be removed. Using the radiosurgery unit, our team will begin removing the excess tissues carefully with precision and accuracy. We then sculpt the gum line to offer a more esthetically-pleasing appearance. The technology also ensures there will be no swelling, no need for sutures, and a faster healing period. We will also discuss tips for eating, drinking, and caring for your smile in the hours following the procedure, to ensure a healing period without complication and avoid infection and other problems. Most patients will be able to resume their normal activities by the next day, with  more attractive smile to show to the world
Ensuring Healthy Gums
Poor gum health could lead to swelling, as well a bleeding, soreness, and redness. Periodontal disease could then form, increasing the risk of discomfort and even tooth loss. To keep your smile healthy, we suggest taking time to brush and floss thoroughly every day, and see us every six months for a checkup and cleaning. Our team will examine your smile and look for the warning signs of periodontal disease, offering treatment to manage the issue and safeguard your smile. A cleaning removes plaque buildup, which prevents inflammation and helps ensure a healthier (and more attractive) smile. If you have any questions about this treatment option, then please contact our team today.
Do You Have Questions About Cosmetic Care?
Our team offers gum contouring and other cosmetic treatments to improve smile beauty. For more information on improving gum health and safeguarding your smile against periodontal disease, then schedule a consultation, call Jeffrey Leibowitz, DDS, in Astoria, NY, today at 718-728-8320.