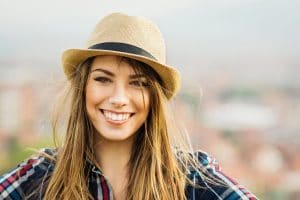 Cosmetic dentistry isn't just limited to brightening teeth or fixing chips. We also offer treatments designed to improve the esthetics of your gum tissue. In today's blog, your Astoria, NY, dentist explains the benefits of our comfortable and minimally-invasive gum contouring procedure, as well as tips for keeping your gums healthy and free of disease!
What is Gum Contouring?
With this contouring procedure, we actually change the shape and appearance of your gum line. For some people, a "gummy smile" develops, in which excessive gum tissue impacts overall appearance. You may display too much gum when smiling, or your teeth could appear small or uneven. In order to correct this issue, we mark the areas requiring removal and then employ a radiosurgery unit to carefully remove excessive gum tissue, trimming them with accuracy and precision. Using a radio surgery unit instead of scalpels means no need for sutures, a reduced risk of bleeding and infection, little to no swelling, and a much faster healing time. The entire procedure only takes one visit to complete and you'll be able to return to your normal routine after a day of rest.
Poor Periodontal Health
While on the subject of your gums, let's talk about periodontal health. Your gingival tissue holds your teeth in place and is a major factor in your overall health. When these tissues become inflamed and gingivitis and/or periodontal disease develops, serious complications could arise. You may notice your gum tissue bleeds easily, feels sore, or appears more red than usual. In advanced cases, periodontitis could arise, attacking the connective tissues between the teeth and gums and causing tooth loss. Always watch for changes to your gum tissue and alert your dentist as soon as possible.
Protecting Your Smile
To maintain your cosmetically improved smile and prevent recession or swelling, you need to maintain good homecare. For example, be sure you're brushing your teeth twice daily and always flossing before going to bed. Make time to see us for a checkup and cleaning, during which we will monitor your smile for signs of trouble. A cleaning then removes all plaque buildup, which could otherwise lead to the onset of periodontal disease. Try to avoid smoking or tobacco use as well. If you have any questions or concerns about your smile's health and appearance, then contact our team today. We can discuss possible treatment options and create a personalized care plan.
Ready for Cosmetic Dentistry?
We can help address the health and appearance of your smile with our cosmetic procedures and preventive options. For more information on cosmetic dentistry and other aspects of our comprehensive approach to dentistry, schedule a consultation with us by calling Jeffrey Leibowitz, DDS, in Astoria, NY, today at 718-728-8320.