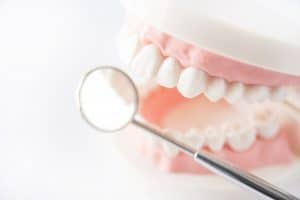 The American Dental Association recommends a routine checkup about once every six months. In today's blog, we're going to look at the importance of this routine exam, and how your Astoria, NY, dentist uses digital technology to obtain a more detailed and accurate picture of your oral health. With a checkup, we help you maintain your best possible smile.
When Do I Need a Checkup?
We suggest a visit about once every six months for most patients. However, if you have high risk factors for serious oral health issues like gum disease, then one every three to four months might be necessary. During the visit, we will take a detailed look at your teeth, gums, roots, and oral structures for possible signs of trouble. If we discover anything, we can offer treatment. Our team may look for tooth decay, dental infection, gingivitis, and gum disease. We examine the jaw joints and look for signs of wear and friction that could indicate TMJ disorder and bruxism (teeth grinding). For adults, we will screen for oral cancer during one of their six-month checkups each year.
The Benefits of a Digital X-Ray
To obtain a clear and detailed picture of your current oral health, we will employ a digital x-ray. The technology uses a fraction of the radiation employed in traditional x-rays. We also don't need to develop them in harsh chemicals, which saves time and doesn't place pressure on the environment. Then images are available right away chairside, so we can walk you through the process and help you gain a greater understanding of your oral health. We have a better ability to make a diagnosis with accuracy and precision, often identifying and addressing serious concerns before you experience discomfort or serious complications.
What's Next?
Following your exam, we will clean your smile to remove all plaque and tartar. We will then discuss, if necessary, any treatments needed to correct developing issues. For example, the early stages of a cavity could be addressed with a simple and lifelike filling. Catching gingivitis allows us to remove buildup and fight inflammation before gum disease develops. If you have any questions about the importance of these preventive exams, or if you would like to schedule one for yourself or a member of your family, then please contact our team today. Let us help you maintain your healthiest, and most attractive, smile!
Do You Have Questions About Dental Exams?
You should see us every few months to undergo a checkup and help maintain optimal oral health in the process. To learn more about keeping an eye on your smile with preventive visits, then schedule a consultation by calling Jeffrey Leibowitz, DDS, in Astoria, NY, today at 718-728-8320.