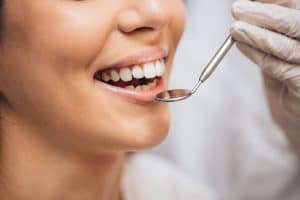 When was the last time you called up your Astoria, NY, dentist to set up a checkup and cleaning appointment? While many people view these as minor, or uneven unimportant, procedures, a checkup and cleaning is crucial for keeping smiles healthy and free of serious oral health problems. But what do we look for in a checkup?
Taking Digital X-Rays
Your checkup involves a thorough look at the health of your teeth, gums, and oral structures. In addition to a visual scan of your smile, we will also employ advanced technology. Digital x-rays use up to 90% less radiation, and the images don't need a lengthy development time in harsh chemicals. Instead, the images are available nearly instantly chairside, allowing our team to walk you through the diagnostic process. The images will be clear and easy to see, providing a more accurate and precise diagnosis. We then watch for a number of different possible problems.
Common Oral Health Issues
Our team will look for the early warning signs of tooth decay, as well as indicators of infection. We will also take time to examine the gums for the warning signs of both gingivitis and gum disease. Wear and friction on your teeth could identify TMJ disorder or even bruxism (teeth grinding). We also screen for oral cancer as well. The earlier we identify these problems, the sooner we can offer treatment to prevent them from threatening the health and stability of your smile. During the same sitting, we will also clean your teeth, using an ultrasonic scaling device and manual tool to remove all plaque and tartar from your teeth, improving oral health and reducing the risk of everything from cavities and gum disease.
Possible Treatment Options
If you have a cavity, we can likely address the problem in a single visit with a filling. For infections or severe damage, we can discuss custom-made and lifelike dental crowns. A scaling and root planing can reverse gum inflammation and help manage or avoid gum disease. If you have a damaged tooth, then single visit cosmetic bonding and contouring can help return your smile to optimal appearance and function. Remember, to maintain optimal oral health we should see you at least once every six months for a checkup and cleaning. If you have high risk factors for gum disease, then we may suggest a visit every three to four months. If you have any questions about our preventive visits, then please contact our team today to learn more.
Do You Have Questions About Preventive Care?
We would love to help you enjoy a healthier smile with our preventive visits. For more information on preventive dentistry, schedule a consultation, call Jeffrey Leibowitz, DDS, in Astoria, NY, today at 718-728-8320.