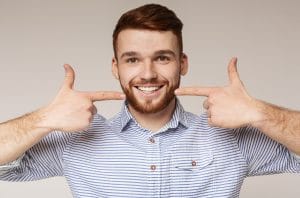 Why does your Astoria, NY, dentist often urge you to attend regular six-month checkups? In today's blog, we're going to take a closer look at the purpose of a dental exam, and why having one every few months is crucial for keeping smiles healthy and bright. Let's find out how a checkup improves oral health.
The Purpose of an Exam
Simply put, your checkup is how we keep track of your smile's health, appearance, and stability. We take this opportunity to examine your teeth for signs of wear and friction, which could point to the presence of bruxism or TMJ disorder. We watch for the warning signs of a cavity or an infection. We take a look at the gums to discover gingivitis and gum disease in the early stages, before periodontitis forms and threatens the stability of your smile. We will also screen for oral cancer annually, which is vital for identifying the disease in the early stages. By having them regularly, we can find problems in the early stages and address them before you begin to experience uncomfortable symptoms, such as aching teeth or sore, bleeding gums.
Using Digital Technology
In addition to a visual scan, the dentist will also employ digital technology. Instead of traditional x-rays, we use a digital alternative. This means we can take detailed images of your teeth, gums, jaw, and oral structures instantly, showing you images chairside and walking you through the diagnostic process. The images won't require lengthy development in harsh chemicals either, which makes this a greener option. Finally, digital technology means we use 80% less radiation than traditional x-rays! We can also send the images easily to specialists.
Cleaning Your Teeth
Along with the exam, this visit is also an opportunity to clean your teeth. A dental cleaning does what brushing and flossing alone cannot: remove plaque completely from your smile. Plaque is a bacterial byproduct that coats the teeth, weakening tooth enamel and irritating gum tissue, increasing the risk of cavities, infection, gingivitis, and gum disease. The cleaning helps ensure your teeth stay bright and healthy. On average, we suggest patients see us every six months for a checkup and cleaning. If you have high risk factors for gum disease, then we may suggest more frequent visits, usually every three to four months. If you have any questions about these visits, or if you would like to schedule one for yourself, then please contact our team today. We would love to help you enjoy optimal oral health!
Ready for a Preventive Visit?
Our team is ready to help you enjoy a healthy smile with routine preventive care. For more information on our thorough exams and dental cleanings, then schedule a consultation, call Jeffrey Leibowitz, DDS, in Astoria, NY, today at 718-728-8320.