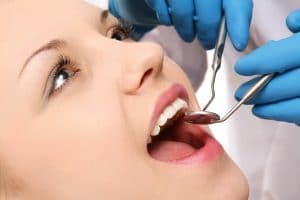 According to the American Dental Association, people of all ages need to undergo routine checkups and cleanings at least twice a year. Those with high risk factors for gum disease and other oral health concerns may need them every three to four months. We agree, and help our patients in Astoria, NY, enjoy healthier and more attractive smiles with preventive visits.
Dental Checkups
Every six months, you need to have your smile examined by a dental professional. If you consistently have your smile examined, then we have the chance to identify and treat problems in the earliest stages, often before you experience discomfort or notice symptoms. For example, we can find tooth decay before toothaches develop, reverse gingivitis before gum disease forms, and uncover the earliest indicators of TMJ disorder or bruxism. We can also screen for oral cancer, looking at your oral tissues for signs of lesions, rough patches, red and white splotched areas, and other signs of cancerous and precancerous areas. Employing advanced technology, such as digital x-rays and intraoral cameras, we can obtain a detailed view of you smile and walk you through the diagnostic process, helping you better understand your oral health.
Cleaning Your Teeth
In your same visit, the dentist or one of our hygienists will clean your teeth. The procedure involves the use of a manual tool or an ultrasonic scaling device to remove all plaque and tartar from your smile. Plaque forms when bacteria break down food particles, leaving a bacterial buildup on the teeth that weakens tooth enamel and inflames gum tissue. Having your teeth cleaned not only improves your breath and brightens your smile, but decreases the chances of tooth decay and gum disease forming. As we mentioned above, those with high risk factors for gum disease may need one every three to four months.
What About at Home?
To maintain optimal oral health, you need to see us twice yearly and also care for your teeth and gums at home. Routine homecare means taking time to brush your teeth twice a day, once before going to bed and again when you wake up. Each time should take no less than two minutes and reach every available surface of your teeth, preferably using a soft bristled toothbrush and fluoridated toothpaste. Even more vital is flossing, which removes what a toothbrush cannot reach. You need to floss every night before going to bed. If you smoke or use tobacco products, we urge you to quit. Also consider cutting back on sugary and starchy foods, and drinks high in sugar and acid.
Ready for Your Next Exam?
We want to help our patients enjoy a lifetime of healthy smiles. For more information on our general and preventive treatment options, schedule a consultation with us by calling Jeffrey Leibowitz, DDS, in Astoria, NY, today at 718-728-8320.