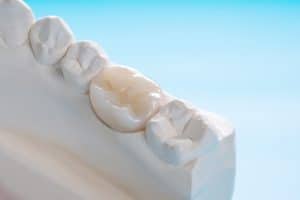 While a filling is often the perfect choice for addressing a cavity, what if you have a severe case of tooth decay or an infected or abscessed tooth? In these cases, your Astoria, NY, dentist may place a custom-made dental crown, one that looks natural and blends with the smile seamlessly. How do we place them? When should you seek one from our office?
Creating Your Restoration
Each restoration we place will be custom-made for our patients, ensuring not only a comfortable and accurate fit, but also a lifelike appearance. In addition to metal materials, we also offer options that can be shaded to blend with your smile, such as ceramic, porcelain-fused-to-metal, or zirconia. These options are translucent and can still withstand powerful bite forces and absorb major pressures. In addition, we shade them to blend with the rest of your smile.
Creating them starts with the removal of tooth structure, to make room for them. We then take detailed impressions and measurements, which we use to craft them. After we create your restoration, you will return for a second visit so we can place them with a powerful bonding agent, which ensures they stay in place for decades as long as you continue to offer daily care.
When Do We Place Them?
We may place one to address advanced cases of tooth decay, as well as infections or abscesses. We can lengthen worn down teeth, and even repair major chips and cracks. Placement has been used to address esthetic issues with the shape and color of the tooth. If you have missing teeth, we can anchor a dental bridge in place or even restore a single tooth dental implant. As you can see, they offer a wide array of cosmetic and restorative improvements.
Keeping Them Strong
To keep them strong, you need to care for the teeth they're attached to, which means brushing your teeth twice a day for two minutes when you wake up and before you go to bed. We also suggest flossing before going to bed as well. Make time to see us too, as routine checkups and cleanings can help improve the health and beauty of your smile, and ensure your restorations last for many years to come. If you have any questions about repairing your smile, or about any of our other restorative treatments, then please contact our team today.
Do You Have Questions About Crowns?
We know that repairing a tooth helps protect your smile from a number of major oral health complications. So, if you damage a tooth or experience discomfort, then let us know right away. For more information on our restorative treatment options, then schedule a consultation, call Jeffrey Leibowitz, DDS, in Astoria, NY, today at 718-728-8320.