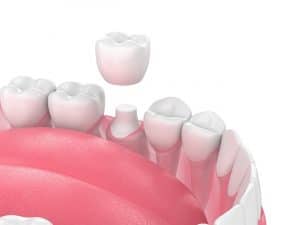 If you have a cavity, or if a tooth develops an infection or becomes broken, then a restoration is needed to avoid further complication. Instead of relying solely on metal restorations, we have a variety of options that look natural and blend with your smile. In today's blog, your Astoria, NY, dentist talks about our lifelike dental restorations!
The Dangers of a Cracked or Chipped Tooth
You could injure your tooth playing sports, or by biting down on a particularly hard piece of food. A tooth could also become weakened due to cavities or infection. When a tooth become cracked or chipped, let us know right away. The damage could expose the inner tooth structure to harmful bacteria, leading to cavities and an increased risk of dental infection. If you have pain in a tooth, then let us know because a persistent ache could mean the presence of a cavity or infection. If you have a damaged tooth, we can offer repair, often in as little as one visit!
Dental Fillings and Bonding
Both dental fillings and dental bonding procedures use composite resin, a metal-free material that can be shaded to blend with the tooth's appearance. With a filling, we remove decay and add the material to the decayed portions of your tooth. With bonding, we use the material to buildup the missing or damaged portions of a tooth, returning them to full function and beauty. With both procedures, we prepare and place the material, then sculpt the tooth as we cure the tooth under a light. The process only takes one visit to complete!
Crowns
A crown covers the entire visible portion of your tooth, and the process stakes two visits to complete. We start by removing a bit of tooth structure and taking detailed impression and measurements of your tooth. We use this information to design the restoration and create it using a strong and lifelike material, such as dental ceramic. Not only is ceramic durable and strong, but the material is translucent like tooth enamel and can be shaded to match the color of your surrounding teeth. We can address severe damage or advanced cases of decay. We can even treat an infection with a root canal and crown!
Veneers
A veneer is a very thin shell of porcelain we place onto the front-facing side of the tooth, transforming the overall appearance and providing a solution to everything from discoloration to misshapen teeth. If you have any questions about repairing and restoring smiles with our lifelike crowns and veneers, then contact our team today.
Schedule a Visit Today
Our team would like to help you obtain restorations that look natural and blend with your smile seamlessly. For more information on our lifelike restorations, then schedule a consultation, call Jeffrey Leibowitz, DDS, in Astoria, NY, today at 718-728-8320.