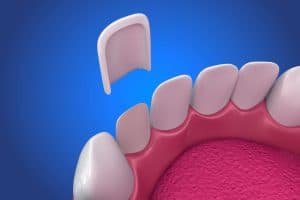 Did you know that when we place a porcelain veneer, your Astoria, NY, dentist has the chance to completely change your tooth's shape and color at once? In today's blog, we're going to look at how veneers can transform a smile's appearance, and how we can combine them with other treatments to offer a smile makeover.
The Cosmetic Benefits
A veneer is a lifelike and durable restoration with one goal: improve your smile's appearance. The restoration is thin and covers the front and sides of the tooth when placed. As a result, they can be used to mask permanent teeth stains, the severe discoloration that may not respond to most teeth whitening methods. We also repair minor cracks and chips, and lengthen worn down teeth. We can reshape your misshapen teeth, and also close gaps between teeth. If you have minor misalignment, we can correct the appearance of your smile without the need for orthodontics. As you can see, they offer solutions for a host of restorative and cosmetic issues!
Creating Your Porcelain Restoration
Each one is custom-made and shaded to match the rest of your smile seamlessly. To create them, we start by making room for them. We then remove a small layer of enamel and then take detailed impressions and images of the tooth. We use these items to design and create your custom restoration. When you return for a second visit, we check the fit, make any necessary adjustments, and place them. In just two visits, you receive a custom-made restoration that can completely alter the appearance of your smile. In addition, routine care, such as brushing, flossing, healthier diets, and regular visits for checkups and cleanings, can help them stay bright and strong for decades to come.
A Smile Makeover
Prior to creating them, we may brighten your teeth with our professional teeth whitening procedures. Doing so means we can design restorations that blend with your brightest possible smile. In addition, we may combine treatment with dental bonding, using bonding to address the esthetic concerns of the side and rear teeth and reserving veneers for the front-facing ones, offering a more cost-effective smile makeover. We may also discuss clear aligners and other cosmetic treatments, so we can help you obtain a stunning new smile. If you have any questions about our lifelike veneers, or any of our cosmetic treatment options, then contact our team today.
Interested in a Cosmetic Smile Makeover?
We would love to help you obtain a stunning new smile with a variety of cosmetic treatment options. For more information on veneers and teeth whitening, then schedule a consultation, call Jeffrey Leibowitz, DDS, in Astoria, NY, today at 718-728-8320.