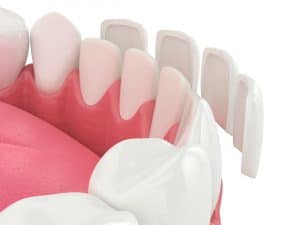 Sometimes, a smile makeover means we combine multiple treatments to address various esthetic issues with your smile, such as teeth whitening and bonding/contouring. However, your Astoria, NY, dentist also offers thin restorations known as porcelain veneers to correct a number of cosmetic issues in just two sittings.
Smile Makeover Potential
Porcelain is a strong and durable material that can absorb serious bite forces and pressure. The material is also translucent like tooth enamel, and can even be shaded to match the color of surrounding teeth, blending with your smile seamlessly. When the restoration is placed over the front and sides of the tooth, this can mask permanent teeth stains, the kind that form beneath the enamel and may not respond to most teeth whitening options. In addition, our team can also lengthen worn down teeth, repair chips and cracks, and close gaps between the teeth. If you have minor misalignment, then our team can correct the appearance with our restorations, providing an alternative to orthodontic treatment.
Creating and Placing Porcelain Veneers
The procedure starts with the dentist removing a thin layer of enamel from the surface of your teeth. Next, we take detailed impressions of the tooth, using the information to design and fabricate the custom restorations. When the patient returns for a second visit, we will attach the completed veneer with a powerful bonding agent. We use the same bonding material that anchors crowns in place, so your new restoration can last for decades to come. In as little as two visits, our team can help transform the overall beauty of your smile, instantly improving shape and color!
Keeping Your New Smile Stunning
The veneers are attached to natural teeth, which means these teeth are still vulnerable to tooth decay, infection, and gum disease. So routine care is crucial for avoiding these complications and protecting your smile. In addition, regular care also helps ensure they stay bright and attractive. You should brush your teeth twice a day and floss every night before going to bed. Make time to see us for regular checkups and cleanings, so we can protect your newly restored teeth and natural ones as well. We also suggest cutting back on sugary and starchy foods, as well as drinks with dark pigments, like coffee, soda, tea, and red wine. If you have any questions about our custom veneers and cosmetic treatments, then please contact our team today to learn more.
Do You Have Questions About Cosmetic Treatment Options?
Our team offers a thin restoration to help transform a tooth's shape and color. For more information on cosmetic dentistry, then schedule a consultation, call Jeffrey Leibowitz, DDS, in Astoria, NY, today at 718-728-8320.