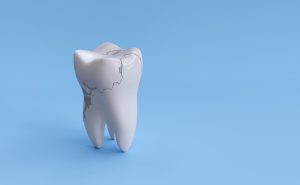 In our last blog, we discussed removing teeth stains before the holiday season arrives. In today's blog, we would like to take a look at our other cosmetic treatments. With dental bonding and contouring, we can repair teeth in a single visit. Find out how your Astoria, NY, dentist addresses everything from permanent discoloration to chipped or cracked teeth.
Don't Live With a Chipped Tooth
Our teeth could become chipped due to a serious sports injury, or possibly as a result of biting down on a hard piece of food. No matter how minor the damage appears, always contact your dentist and set up an appointment. Even minor damage could expose the inner layers of dentin, which are sensitive, to harmful bacteria. A cavity could then form, spreading and causing discomfort and an increased risk of infection unless treated. If you chip a tooth, see if you can recover any pieces and bring them to the dentist's office with you. If this proves impossible, we can still repair the tooth, don't worry. In the meantime, you can use a piece of cloth or gauze to stem the bleeding, a cold compress against the side of the face to reduce swelling, and take a pain reliever to ease discomfort.
Dental Bonding and Contouring
With dental bonding, we can repair minor chips and cracks in a single visit, as well as other esthetic concerns. The procedure involves the dentist first removing any decay and cleaning the tooth. We may etch the surface as well. We then prepare the composite resin material, a metal-free blend of acrylic and glass compounds that can be shaded to match the color of the teeth. We apply the material in several layers, the etched portions keeping it in place as we cure the composite resin under a light. Finally, we polish the tooth for a more lifelike appearance.
Along with repairing damage, we can lengthen worn down teeth, mask the permanent teeth stains that may not respond to teeth whitening, and reshape malformed teeth as well. With contouring, we take a different approach. Instead of adding material to the tooth, we buff and sand away outer structure to remove pointed or sharp portions of a tooth, address minor damage, or remove pits and grooves in the tooth surface. Again, this takes only one visit to complete and we may even finish both in the same sitting! If you have any questions, feel free to contact our team today.
Do You Have Questions About One-Visit Cosmetic Care?
We would like to help you enjoy a more attractive smile, often in as little as a single sitting. For more information on our approach to cosmetic dentistry, then schedule a consultation, call Jeffrey Leibowitz, DDS, in Astoria, NY, today at 718-728-8320.