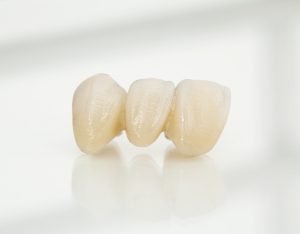 For Astoria, NY, patients with minor tooth loss, we may suggest a custom-made and lifelike dental bridge. In order to ensure your new teeth last for a long time and continue to offer quality tooth replacement, you need to take proper care of your prosthetic. How do you keep dental bridges clean and what steps should you take to avoid further tooth loss?
Creating Your Prosthetic
How do we design and create a custom-made bridge? We begin by preparing the teeth on either side of the exposed gap in your smile. We remove tooth structure from these teeth and take detailed digital impressions. The impression will be used to design and fabricate the prosthetic. The bridge will contain crowns that we attach to the prepared teeth. The crowns anchor the new teeth in place, providing a solution for those with one to three lost teeth in a row. We create them using lifelike materials, such as ceramic or zirconia. These materials can be shaded to match your smile and also offer a durable solution for missing teeth. Once in place, no one will be able to tell you have a prosthetic.
Placing Your Dental Bridge
Now, in most cases we support the with dental crowns, as we mentioned above. However, for some patients we offer a more stable option. Instead of crowns, we will insert dental implants, which supports the new teeth without requiring surrounding teeth to lose natural tooth structure. In addition, dental bridges supported with dental implants tend to last longer, decades in some cases.
Cleaning Your New Teeth
How do you clean your bridge? Each morning and night, you need to brush your teeth for two minutes using a fluoridated toothpaste. You should clean your bridge as well. Brushing helps remove food particles and limit the presence of plaque buildup, a bacterial byproduct that could weaken tooth enamel and inflame gum tissue. You also need to floss around every tooth, including the ones supporting your bridge. You will also need to clean the space between the top of your gums and the bottom of your new prosthetic, as food could accumulate in this space. If you have any questions about keeping your new teeth strong and bright, or if you have missing teeth, then contact our team today. We want to help you enjoy a healthy and whole smile for many years to come.
Do You Suffer From Tooth Loss?
If you have one or more missing teeth, then talk to our team about a custom-made prosthetic. For more information on our tooth loss solutions, such as dental bridges and dental implants, schedule a consultation with us by calling Jeffrey Leibowitz, DDS, in Astoria, NY, today at 718-728-8320.