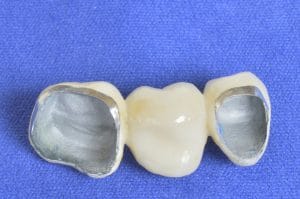 If you've lost a single tooth, you may feel embarrassed about the gap in your smile. We understand and offer a lifelike prosthetic to replace a missing tooth. Addressing tooth loss can improve not only your appearance, but your overall oral health as well. Should you consider a dental bridge?
Frequently Asked Questions About Dental Bridges
Question: How does tooth loss impact my smile?
Answer: When you lose a tooth, a gap appears in your smile. Soon, the surrounding teeth can begin drifting from position, causing misalignment. With misalignment comes a greater risk of tooth decay and gingivitis. The pressure tooth loss places on the jaw joints can also mean a greater risk of TMJ disorder and bruxism. Addressing your missing tooth can lead to improved oral health.
Question: How do you create a dental bridge?
Answer: First, we need to prepare the natural teeth on either side of the gap in your smile. We remove tooth structure and then take detailed impressions. The images and impressions we gather will be used at a dental lab to design and create the prosthetic. Once complete, you will return to the office and we can place the bridge. The prosthetic consists of pontics (replacement teeth) with crowns on either side. The crowns sit on the prepared teeth, anchoring the new ones in place.
Question: How do I maintain them?
Answer: You will need to brush and floss them, as well as your natural teeth, every day. You will also need to clean the space between the top of the gums and the bottom of the dental bridge.
Question: Can they be supported with dental implants?
Answer: Yes, in some cases we can support a dental bridge with multiple dental implants, providing a more secure prosthetic. If you have any questions about our dental bridges, then please contact our team today.
Do You Have a Missing Tooth?
At Jeffrey Leibowitz, DDS, we can help you enjoy a full and beautiful smile. We've proudly served our patients in Astoria, NY (including Queens, Manhattan, Brooklyn, and all surrounding communities) since 1991. To schedule an appointment with Dr. Leibowitz, call our office in Astoria today at 718-728-8320.