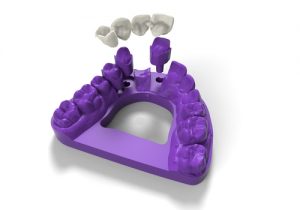 Have you recently lost one or more teeth? Tooth loss can mean embarrassing gaps in your smile. However, without treatment the missing teeth can also lead to serious complications, such as a greater risk of misalignment forming. Are you ready to try addressing your tooth loss with a fixed dental bridge?
Creating and Placing the Bridge
We will first need to prepare the teeth on either side of the gap in your smile, removing a small amount of structure from each tooth. Next, we take detailed impressions, which will be used to create the prosthetic. Once the bridge is complete, you will return for placement. The crowns on either end of the bridge will be placed onto the prepared teeth, anchoring it in place.
The Dangers of Tooth Loss
Addressing tooth loss is important, as a delay can mean a greater likelihood of serious oral health complications. Without replacement, missing teeth can lead to the remaining teeth drifting from position, causing misalignment (and with misalignment comes a greater risk of tooth decay, gum disease, TMJ disorder, and even bruxism). You can also feel embarrassed about your appearance, which negatively impacts quality of life. If you lose additional teeth, the risk of difficulty eating, trouble speaking clearly, and even developing a prematurely aged appearance grows.
Maintaining Your Prosthetic
How do you care for your new bridge? First, you should continue to brush your teeth twice a day for two minutes each session, and also floss every night. Doing so helps protect the prosthetic, as well as the rest of your smile, from plaque buildup. You will also need to clean the space between the top of your gums and the bottom of the prosthetic. We will provide detailed care instructions and tips for keeping your smile healthy (which helps maintain your natural teeth).
Do You Have a Missing Tooth?
At Jeffrey Leibowitz, DDS, we can provide a custom-made and lifelike solution to tooth loss. We've proudly served our patients in Astoria, NY (including Queens, Manhattan, Brooklyn, and all surrounding communities) since 1991. To schedule an appointment with Dr. Leibowitz, call our office in Astoria today at 718-728-8320.