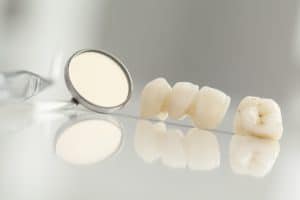 If you have minor tooth loss don't assume the issue isn't a serious one. Even minor tooth loss can have a serious negative impact on your smile's health. In order to address between one and three missing teeth in a row, we may prescribe a dental bridge.
Frequently Asked Questions About Dental Bridges
Question: Can the prosthetic prevent complications related to tooth loss?
Answer: In many cases, yes! Often, misalignment develops due to the gap in your smile causing surrounding teeth to drift from position. Placing a prosthetic fills the gap and prevents this issue. In addition, eating can become difficult and you may feel embarrassed about your smile. Again, addressing your missing teeth can prevent these complications from developing.
Question: How do you create one?
Answer: We take detailed impressions of your smile, which we will use to design and then fabricate a custom-made prosthetic. We use lifelike materials in the construction, including ceramic or zirconia for the new teeth and crowns, which ensures they blend seamlessly with your smile.
Question: What does placement involve?
Answer: The bridge consists of the new teeth, or pontics, with dental crowns attached to each end. We prepare the teeth on either side of the gap and place the crowns on them, anchoring the new teeth securely.
Question: How do I care for my new dental bridge?
Answer: You should brush and floss them as you would your natural teeth. In addition, we suggest cleaning the space between the top of the gums and the bottom of the prosthetic, where food particles could accumulate. You should also see us for checkups and cleanings so we can examine the prosthesis and remove plaque buildup that could eventually threaten your smile. If you have questions about replacing missing teeth with dental bridges, then contact our team today.
Do You Need a Dental Bridge?
At Jeffrey Leibowitz, DDS, we can employ a prosthetic to restore the health and beauty of your smile. We've proudly served our patients in Astoria, NY (including Queens, Manhattan, Brooklyn, and all surrounding communities) since 1991. To schedule an appointment with Dr. Leibowitz, call our office in Astoria today at 718-728-8320.