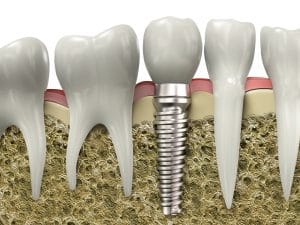 We want our Astoria, NY, patients to enjoy a lifetime of healthy and complete smiles. Which means when a patient loses a tooth, we want to offer a durable and natural looking tooth replacement option. Dental implants not only look natural, but provide many years of dependable tooth replacement.
What Makes Them Different From Bridges and Removable Dentures?
When we place a bridge, we secure them with dental crowns placed onto surrounding teeth. A partial denture relies on metal clasps attached to surrounding teeth and full dentures use natural suction. However, a dental implant is inserted into the jawbone. Made from titanium, which is biocompatible, the dental implant bonds with the jawbone tissue like a natural tooth root. As a result, they are more secure and also stimulate the jawbone tissue, preventing further tooth loss.
Creating and Placing Them
After we inserted the dental implant, the placement area will need to heal. A process known as osseointegration will occur, bonding the new tooth root and the jaw. After three to four months, we will complete the new tooth by creating a custom-made dental crown, which replaces the visible portion of the tooth. The crown will look natural and blend with the rest of the smile.
Keeping Your New Teeth Strong
After placement, routine care will be necessary, just as it would for natural teeth. When we brush twice a day and floss every night, we remove food particles that would increase the risk of tooth decay and gum disease. Gum problems pose a risk of implant failure, so routine care is essential. You should also see us every six months for a checkup and cleaning, which helps keep the new tooth strong (along with the rest of your smile). If you have any questions about treating tooth loss, or about implant dentistry, then contact our team today. Let us provide a lifelike tooth loss solution!
Do You Need Tooth Replacement?
Don't struggle through life with gaps in your smile, talk to us about lifelike tooth replacement options. For more information, schedule a consultation with us by calling Jeffrey Leibowitz, DDS, in Astoria, NY, today at 718-728-8320.