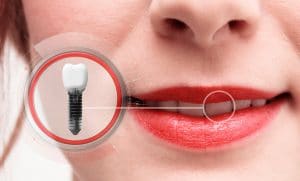 If you have gaps in your smile, then your overall oral health can suffer, not to mention the negative impacts on your appearance. When looking for a possible solution, then you may consider dental implants. We can use implant dentistry to address tooth loss and restore your smile!
Frequently Asked Questions About Dental Implants and Tooth Loss
Question: What causes tooth loss?
Answer: A variety of factors can lead to missing teeth, from poor oral hygiene to untreated infections and abscesses. However, the most common cause is periodontitis, the advanced stage of gum disease that attacks the connective tissue between the teeth and gums.
Question: How do dental implants address missing teeth?
Answer: The dental implant is a screw-like device made from titanium, a biocompatible material. An oral surgeon inserts the implant into the jawbone, where it bonds with the jawbone through a process known as osseointegration. The prosthetic then acts as a new tooth root, providing a replacement option that can last for decades.
Question: Will the new teeth look natural?
Answer: Yes! After the placement area heals, we add an abutment to the tooth that holds a dental crown in place. The custom-made dental crown replaces the visible portion of the tooth, ensuring you new tooth looks natural and blends seamlessly with your smile.
Question: How do I avoid further tooth loss?
Answer: The dental implant stimulates the growth of jawbone tissue, which helps prevent further tooth loss. In addition, you can start brushing your teeth twice a day, flossing cone a day, and see the dentist for regular checkups and cleanings. These visits help the dentist monitor your smile and protect your teeth from advanced gum disease or infections/abscesses. You should also stop smoking or using tobacco products. If you have any questions about implant dentistry, then contact our team today.
Do You Have Gaps in Your Smile?
At Jeffrey Leibowitz, DDS, we can help address missing teeth. We've proudly served our patients in Astoria, NY (including Queens, Manhattan, Brooklyn, and all surrounding communities) since 1991. To schedule an appointment with Dr. Leibowitz, call our office in Astoria today at 718-728-8320.