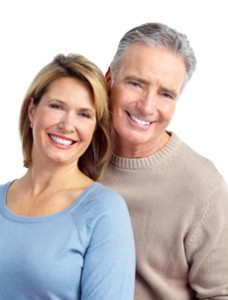 Improving Your Appearance and Bone Health with Dental Implants
While dentures and bridges are effective ways of restoring your appearance and oral functioning after tooth loss, some patients feel they don't provide the same stability as natural teeth. For those patients, Dr. Leibowitz offers dental implants. Consisting of an artificial root implanted into the jawbone, dental implants are permanent tooth replacement options that closely mimic the look and feel of real teeth. An added benefit of dental implants is that they behave just like natural tooth roots, stimulating the jawbone and preventing bone deterioration. Preserving bone tissue in the jaw helps prevent the collapsed, sunken facial appearance that often accompanies tooth loss.
Candidacy for Dental Implants
Dr. Leibowitz will consider several factors to determine if you are an appropriate candidate for a dental implant procedure. First, your remaining teeth must be free of decay, and your gum tissues should be healthy. You must also have sufficient bone mass in your jawbone to support the implants. If signs of bone deterioration are present, you may require a bone grafting procedure to help build up your bone tissue prior to undergoing implant surgery.
The Implant Procedure
Once he has determined that you are eligible for dental implant placement, Dr. Leibowitz will refer you to a dental specialist who will surgically place the biocompatible titanium implants into your jawbone. There will be a waiting period of three to six months for osseointegration to occur. During this process, the bone fuses to the implants anchoring them into place. After successful osseointegration, Dr. Leibowitz will secure a natural-looking, porcelain restoration to the implant. Implants can also be used to attach a bridge or denture securely to the jaw. Firmly locked into place, your dental implant restorations will function just like your natural teeth.
Ensuring the Longevity of Your Implants
Your implant restorations will last for many years with proper care. Brush and floss your implants as you do your natural teeth. Dr. Leibowitz will demonstrate new flossing techniques, or the use of a small brush, to reach the area between the titanium rods and your gum tissue. Attending regular checkups, is vital to maintaining your implants. During this time, your Astoria dentist will ensure that your gum and bone tissues are healthy and that your implants are properly supported.