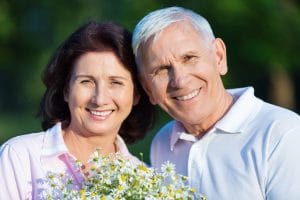 We can help patients in Astoria, NY with advanced tooth loss enjoy a full functional smile once again. For those with advanced tooth loss, we can create a set of lifelike and custom-made dentures. We're going to talk about the differences between full and partial dentures, as well as how we create them.
Frequently Asked Questions About Dentures
Question: Will they be custom-made?
Answer: Yes! We will always take detailed impressions of the teeth, which will be used in a dental lab to design and create a custom-made set of dentures. Being custom-made means they not only fit comfortably, but they also look natural and fit in with your overall facial structure. We also use lifelike materials in their creation, including ceramic and zirconia for the teeth and acrylic (which can be created to look like gum tissue) for the base.
Question: How do full and partials differ?
Answer: A full denture replaces every tooth on one or both arches in the mouth, creating a completely new smile. A partial however, addresses multiple missing teeth, even those spread out across the arch. We can help patients that have a number of missing teeth, but not enough to warrant a complete prosthetic.
Question: Can they be supported with dental implants?
Answer: For some patients, yes! If the patient has enough strong jawbone tissue to support them, and is free of periodontitis (the advanced stage of gum disease, which threatens dental implant) then there is the possibly of supporting a denture with between six and eight dental implants per arch.
Question: How do I maintain them?
Answer: We will provide detailed instructions for caring for your new prosthetics, whether removable or implant-retained. Like teeth, they require maintenance to ensure quality tooth replacement. In addition, routine oral care helps you avoid oral health complications that could impact your new teeth.
Any More Questions About Dentures?
At Jeffrey Leibowitz, DDS, we can offer full and partial dentures. We've proudly served our patients in Astoria, NY (including Queens, Manhattan, Brooklyn, and all surrounding communities) since 1991. To schedule an appointment with Dr. Leibowitz, call our office in Astoria today at 718-728-8320.