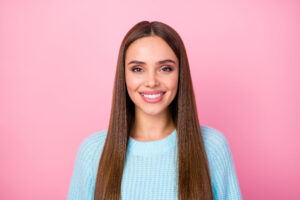 We have a host of cosmetic treatments that can address the appearance of your teeth, such as teeth whitening, dental bonding, and even cosmetic veneers. But what about your gums? What if you have a particularly gummy smile that shows off too much tissue? Your Astoria, NY, dentist can help with our gum contouring procedure!
Gummy Smiles
A gummy smile is a term that refers to a smile that displays too much gingival tissue, which can impact the appearance of the smile and even make teeth appear short or uneven. This occurs due to complications with the growth of the smile and the eruption of the teeth. To correct this concern, we can offer a cosmetic treatment known as gum contouring. If you have a smile that shows too much gum, then consider scheduling a consultation so we can examine your smile and see if this is the right treatment for you! If so, we can schedule an appointment and complete the procedure in one visit.
The Gum Contouring Process
Our team will first gently mark the areas of the gums that need to be removed, and then we will employ a special radiosurgery unit to gently trim away the tissues and reshape the gum line. This improves smile symmetry and helps you obtain a more attractive smile in only one visit. The technology rarely requires the use of anesthesia, and the risk of bleeding or swelling afterward is minimal. You will likely need to rest for a day, but can return to normal activities the next day. The same technology could also be used as part of our treatments for periodontal disease, removing diseased tissues to allow healthy ones to adhere to the teeth.
Contouring for Your Teeth
Our team also offers contouring for the teeth, but this is a completely different procedure. We don't need the radiosurgery unit, instead our team will sand and buff the outer tooth structure to correct minor cosmetic concerns. Our team could correct the appearance of chipped teeth, smooth out grooves, pits, or rough patches in the outer surface, and full sharp, pointed, or jagged portions of tooth structure. The procedure can also reshape malformed or overly large teeth too.
If you have any questions about gum contouring or about our tooth contouring procedure, then contact our team today. We have an array of cosmetic treatments to help you obtain a beautiful smile, often in as little as one to two visits.
Talk To Your Astoria, NY Dentist About Our Cosmetic Treatments
If you would like to learn more about how we can improve the overall beauty, health, and function of your smile, then please call Dr. Jeffrey Leibowitz, DDS at 718-728-8320.