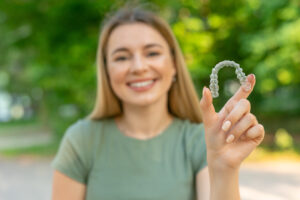 When you have crooked, crowded, or overlapping teeth, then you may need orthodontics to correct your smile. But instead of metal braces, we could offer an even smile with clear aligners! These are invisible aligners that fit comfortably. In today's blog, your Astoria, NY, dentist talks about these custom aligners.
Don't Ignore Your Misalignment!
When you have misalignment, this could obviously impact your smile's beauty, and your confidence in your appearance. But beyond this, there are also serious impacts on your oral health. Poor alignment could alter your bite and result in imbalance linked to TMJ disorder and even bruxism (chronic teeth grinding). This could damage your smile with time. In addition, thorough brushing and flossing is more completed, so you're more likely to develop tooth decay and even gum disease. Don't live with an uneven smile and poor oral health, talk to our team about our cosmetic orthodontic aligners.
Creating Clear Orthodontics
Every smile is different, which means every aligner set is custom-made for our patients. To begin, we will take a series of detailed digital images of your smile from multiple angles, combining them to create a 3D impression. The impression and images are then sent to a special lab where experts will use them to design and craft the finished product. Each set is made from a clear plastic material, so they're practically invisible when worn. In addition, they will fit comfortably and prevent the gum and cheek irritation often linked to metal braces.
Treating Your Dental Misalignment
Once your custom aligners are ready, you can start treatment. You will need to wear a set for about 20 to 22 hours a day on average, over the course of about two weeks. At this point, you switch to the next set in the series, and repeat this process until you obtain optimal results. If you wear the orthodontics as recommended, this could be as little as one year total. Your sets are also removable, so you can enjoy your favorite foods without worry, and brushing and flossing your teeth is much simpler too. You can also take them out before special occasions, such as graduations, first dates, or job interviews.
If you have any questions about treating your uneven smile with a series of custom and clear plastic aligners, then contact our team today to learn more. We're ready to help you enjoy an even and beautiful smile with our cosmetic orthodontic treatment option.
Talk To Your Astoria, NY Dentist About Cosmetic Orthodontics
If you want to finally address your uneven smile, and want to learn more about this treatment option, then please call Dr. Jeffrey Leibowitz, DDS at 718-728-8320. A beautiful smile is possible, and we want to help you achieve it.