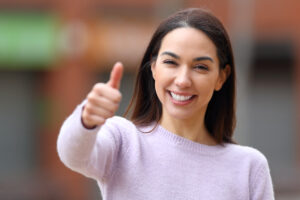 We would like to see our patients about once every six months for a checkup visit. A dental exam may seem like a minor visit, but this is crucial for keeping teeth strong and preventing oral health complications. In today's blog, your Astoria, NY, dentist talks about the benefits of a dental checkup!
The Dental Exam
The dental exam means we take a close look at your smile for signs of potential trouble. For example, we will watch for the earliest stages of demineralization, so we can treat cavities before they cause discomfort. Our team also watches for dental infection, or the warning signs of gingivitis and gum disease. There are also telltale signs of disorders like TMD and bruxism (chronic teeth grinding) that we watch for as well. The sooner we identify a problem, the sooner we can offer treatment. This often means less extensive solutions. After all, why wait for an infection to develop that requires root canal therapy, when we can address the early stages with a dental filling.
Oral Cancer Screening
During your checkup our team will also screen for oral cancer. According to the Oral Cancer Foundation, over 53,000 people will be diagnosed with the disease this year. The high mortality rate, with half diagnosed succumb to the disease in just five years, is because the disease is rarely caught in the early stages. But with an annual screening at our office, we can help identify it early and increase the chances of a full recovery as a result.
Digital X-Rays and Intraoral Cameras
To make a diagnosis with accuracy and precision, we will use advanced technology. To see what's beyond the view of the naked eye, we can implement digital x-rays. The digital option means no more uncomfortable bite wings. Instead, the entire process is done quickly and comfortably, and using a fraction of the radiation. The images don't need to be developed in harsh chemicals either, and will be available innately chairside, saving you time in the chair. For clear views of the surfaces ,we can use digital intraoral camera technology.
Dental Cleanings
In the same visit, our team will also clean the teeth. A dental cleaning means we employ an ultrasonic scaling device and a manual pick to gently, but thoroughly, remove all plaque and tartar buildup. This not only offers fresh breath and brighter smiles, but can lower the risk of tooth decay and gum disease too! If you have any questions, then give our office a call today.
Your Astoria, NY, Dentist Provides Preventive Dentistry
Our team is here to help smiles in our community. To learn more about how we keep smiles healthy and strong with preventive care, then schedule a consultation by calling Jeffrey Leibowitz, DDS, in Astoria, NY, today at 718-728-8320.